Of the 1,008 websites we collected (House and Senate candidates for the 2018 midterm elections), we were left with 981 after removing duplicates and invalid links.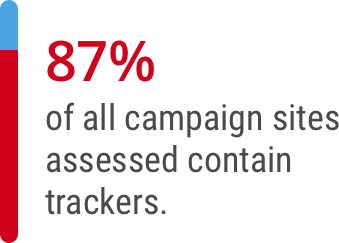 We found that trackers are present on 87% of all sites considered and that around 13% of all campaign pages assessed were tracker free.
41% of pages assessed had 2 – 5 trackers on them; followed by 26% of pages with 6 – 10 trackers; 13% of pages with 0 trackers; 11% of pages with 1 tracker; and 8% of pages with 11 – 20 trackers. Finally, just under 1% of pages had twenty or more trackers present.
Study Overview
Over the past two years, we have explored the ecosystem of third-party tracking scripts online. Two recent studies on this topic include "Tracking the Trackers: Analysing the global tracking landscape with GhostRank" (July 2017) and "The Tracker Tax: the impact of third-party trackers on website speed in the United States" (May 2018).
These studies led us to ask more specific questions about the presence of online trackers: we sought to understand the prevalence of tracking scripts on campaign websites for the 2018 midterm elections, which will take place on November 6, 2018. All 435 seats of the United States House of Representatives and 35 of the 100 United States Senate seats will be on the ballot. More so than any midterm election in the past, campaign efforts are unprecedentedly digital, and as such, provide a great opportunity for examining the relationship between trackers and political campaigns.
The Reach of the Three Big Tracker Companies
With the recent and widespread media attention on U.S. election ads, we wanted to take a closer look at the three big tracker operators, Google, Facebook and Twitter- three companies at the center of discussions on political ads and user privacy.
The study found that Google trackers appear on around 75% of all pages assessed, while Facebook trackers are on just over 53% of pages and Twitter trackers on around 30% of pages.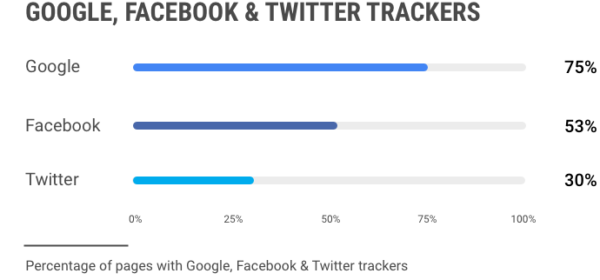 Types of Trackers
When looking at the average number of trackers by category on all pages considered, the study found that advertising and social media trackers were the most pervasive. These two categories represent almost 68% of all trackers found on the campaign websites assessed.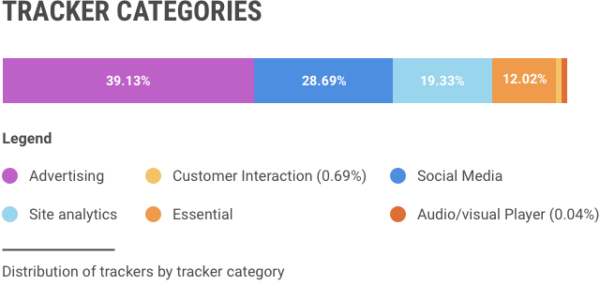 Advertising trackers alone account for almost 40% of all trackers found in our analysis. These trackers are used specifically for data collection, behavioral analysis and targeting and, perhaps most problematic of all, retargeting, which is the process whereby a business or organization can monitor people who visit their website and then retarget those people with additional advertisements.
The study also measured the presence of specific advertising trackers on the pages assessed, revealing that Google's DoubleClick tracker is present on over 50% of the sites. The Facebook Custom Audience tracker comes in second, appearing on around 28% pages. Several other Google trackers make the top ten list, revealing the true reach of Google as a tracker operator.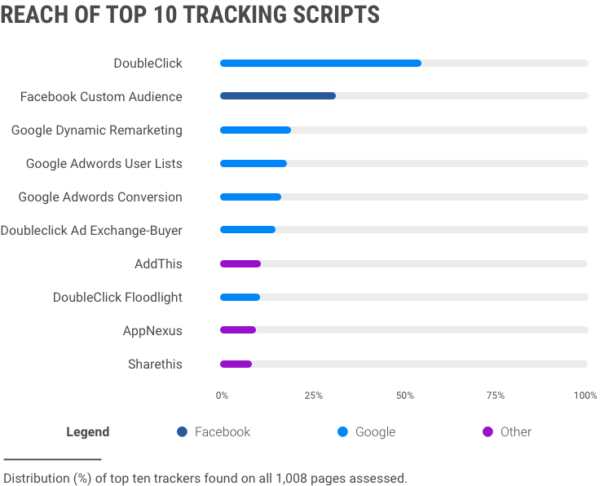 Trackers by Party
The study investigated the distribution of trackers by party and found that Democratic candidate websites average 4.61 trackers and Republicans 5.33. While this may not seem like a large difference, the Republican average represents a 16% increase over the Democratic average. The other parties are as follows: Independents (3.48); Green Party (2.5); Libertarians (2.10); and Other (2.85). Of the average 5.33 trackers on Republican sites, almost half (45%) fall into the advertising tracker category. Comparatively, Democratic candidate campaign websites have an average of 1.62 advertising trackers per page, making up 35% of all trackers found. The proportion of advertising trackers for the other parties are: 24% for Independents; 24% for Green Party; 17% for Libertarians, and 14% for campaign websites from all other parties.

Advertising Trackers: What You Need to Know
Third-party trackers can monitor a user or their device across websites as they browse the Internet and this tracking does not end when the user completes their session of browsing. This is accomplished by putting a snippet of JavaScript code on the website which then tags website visitors with a browser cookie or pixel.
As Cliqz has shown in its recent blog post "How 'allow all cookies' became the default", when a browser sends cookies to third parties embedded on the website, a "privacy hole" opens in the user's browser and this communication between the browser and cookies can persist for a very long time: "For example, when you visit any page with a Facebook widget (or visit Facebook itself), they will set a cookie which will only expire in 2 years time. Some google.com cookies expire in 20 years!"
Why do advertisers use these trackers? When a website includes a Google or Facebook advertising tracker, the website owner accumulates data points each time someone visits their site as the browser communicates with the cookie or pixel dropped by the tracking script. These data points can then be used within the Google or Facebook advertising platforms to create powerful ad targeting; for example, retargeting people who visited the site within a specific timeframe. The data trackers collect is also of great value to any person or company looking to target a specific audience: each time a Google or Facebook tracker collects new data points it helps to make the demographic, interest, and behavioral targeting capabilities offered within the Google and Facebook ad platforms more precise and more invasive.
Digital Ad Spend
A recent article in AdAge looked at digital spending for the midterm elections, stated that Texas in particular "is shaping up to be the most digitally wired race in the country… with both candidates spending more money on Facebook and Google than TV from May to September." Overall, digital advertising is expected to total almost $2 billion by the end of the 2018 midterm elections.
Now that Google and Facebook have made publicly accessible archives of political advertisements, and because of how central digital ads are to these elections, we thought it would be interesting to look at what's being advertised, who is advertising it, and how much they are spending. Google provides ad spend data, so we focused our attention there. In terms of total campaign ad spend on Google Ads Services by state from May 31, 2018 to October 13, 2018, Google's Transparency Report data shows that Florida comes in at the top of the list, with $4,564,500.
The illustration below displays total ad spend—again May 31, 2018 to October 13, 2018—for 10 key Senate elections. Texas' Democratic candidate, Beto O'Rourke comes out on top with over 1M in Google ad spend. In comparison, his competitor, Republican Ted Cruz, has spent about 1/6 of that. For Florida—one of the closest races according to recent polls—Google's data shows that Rick Scott, Republican, and Bill Nelson, Democrat, are at the top of the list in positions #2 and #4 respectively.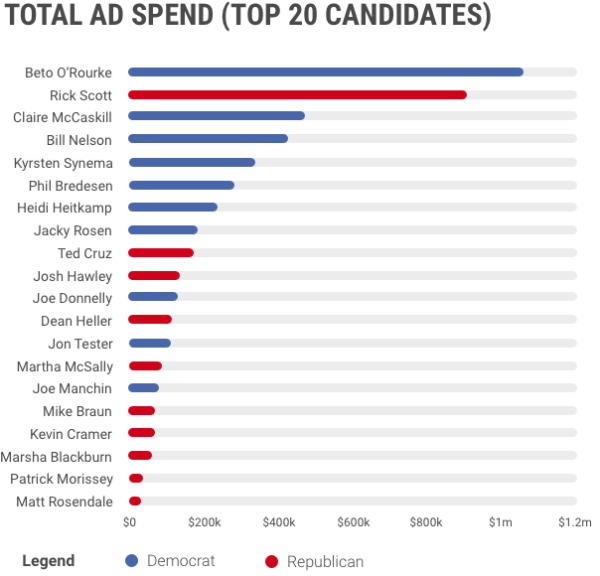 We also looked at ad impression share and proportion of ad type (image, text, video) for these 20 campaigns, as exhibited in the graphs below.
Lastly, we wanted to explore the rate of ad spend week-over-week for these 20 campaigns. As we'd expected, there's an overall increase in spending with time—as it gets closer to the election date, campaigns tend to ramp up ad spend. There is also a local peak in early to mid-August; many states held their primaries at that time.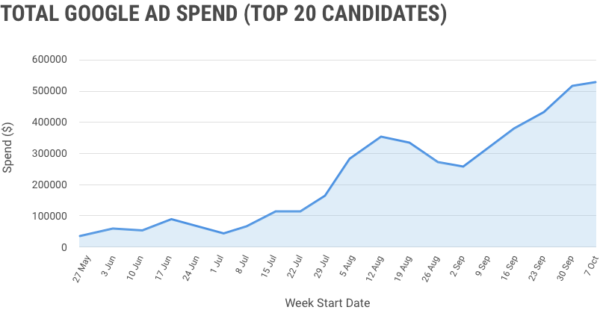 Although the data shows that spend increased over time, this increase was not linear nor consistent among all candidates. Take Rick Scott, for example. From May 27th through June 30th, he spent 24 times more­­ than the average spend of all other 19 candidates in the top 10 key Senate races. More specifically, in this timeframe, he spent 5.3 times more than Beto O'Rourke; 6.5 times more than Bill Nelson; and 65 times more than Ted Cruz. Beto O'Rourke's spend, on the other hand, started out slower but increased substantially over the past month. There are many factors that could be attributed to these differing spend patterns (local/state issues, spending on other ad platforms, etc.).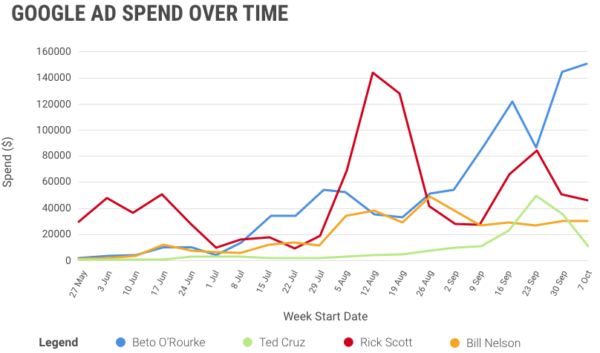 Despite these noted differences in ad spend, what our study ultimately reveals is that trackers are a central part of political campaigns today and their presence on political websites poses the same privacy risks as when they are encountered on e-commerce or news sites. The technology is the same no matter what type of site these trackers are placed on.
Protect Your Privacy Online
Why should this matter to you? Trackers do exactly what their name implies, they track users across websites and through time. From a technical perspective, they are simply pieces of code placed on a website, but their impact is wide-reaching. Trackers "spy" on users by accessing their unique data in order to develop user profiles.
The issue for the user is thus twofold: tracker operators collect user data behind the scenes that help businesses make more money, and the user is constantly at risk of being spied on and having their personal information (political views, interests, shopping behaviors, etc.) collected by third-party trackers.
Using tracker-blocking technologies on all your devices is a way to keep trackers from accessing your personal information. Ghostery's desktop browser extension combines the most comprehensive tracker blocklist out there with an AI-powered Enhanced Anti-Tracking feature that anonymizes your data, as well as an Enhanced Ad Blocking feature that blocks invasive ads from appearing as you browse the Internet. Ghostery also offers a mobile browser for iOS and Android with tracker-blocking capabilities. Ghostery's suite of privacy products puts users back in control of their data.
Methodology
The study is based on data collected from Ballotpedia.com using a custom web crawler built with Selenium and BeautifulSoup in Python. For each of the 981 websites analyzed, we determined the names and categories of the trackers present on the sites using the Ghostery browser extension for Chrome. We removed any website with a dead link from the final data used for the analysis. Additionally, we used the WhoTracksMe database to determine the companies that own the trackers encountered on the websites. Lastly, we looked at the money raised by each candidate for the election up until September 25th, sourced from the website of the Federal Election Commission.