Browse Smarter with Ghostery 8
Hello Ghostery Users,
We are very excited to introduce Ghostery 8, the most advanced privacy tool in the world!  This new version of Ghostery has been many months in the making, as we brought together the combined technical expertise (not to mention uncommonly good looks) of the Cliqz and Ghostery teams.
If you'd like to see what's new in Ghostery 8 on your own, click here and check it out.  If you'd like to see what's new before trying it, keep reading.
What's new in Ghostery 8?
Enhanced Antitracking
Enhanced Adblocking
Smart Blocking
Simplified Setup
Simple View
New Default Settings
Expanded Detail View
Snooze feature for Pause
New Dashboards (coming soon)
More Powerful
Ghostery 8 is the first tool in the world that combines the best of blocklist and AI-powered antitracking technologies. Our new Enhanced Antitracking Protection uses a heuristic approach developed by our parent company, Cliqz, to dynamically detect trackers in real-time and overwrite any uniquely identifying data points being passed to a third party, even for trackers that aren't caught by our traditional blocklist. The combination of these two technologies means that Ghostery provides the most comprehensive privacy protection in the world.  To go a step further, Ghostery 8 also includes an Enhanced Adblocker that supplements our tracker blocking with filter lists that are intended to block any ads that would otherwise slip through.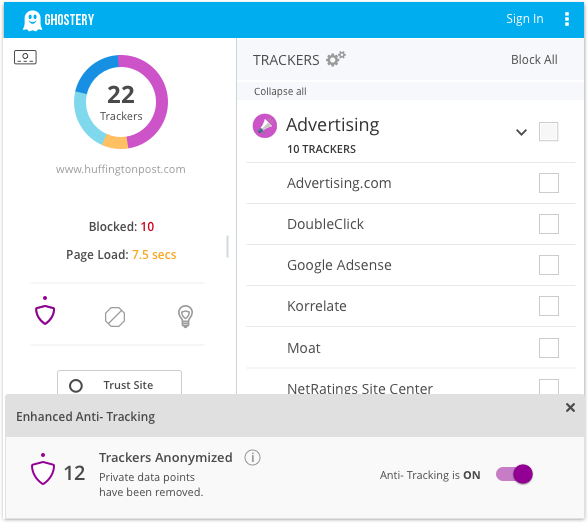 Easier to Use
A primary goal we had with Ghostery 8 was to make it easier to use for the average person.  To accomplish this, we did four things.  First, we simplified the setup so that it's easier to customize Ghostery.  Second, we added a Simple View to our extension so that beginners don't get overwhelmed by a laundry list of trackers. Third, we added a Smart Blocking feature that automatically blocks and unblocks trackers to speed up websites and minimize page breakage.  Finally, Ghostery 8 includes default settings that turn Enhanced Antitracking, Enhanced Adblocking, and Smart Blocking on by default, immediately delivering a cleaner, faster, and safer browsing experience to all users.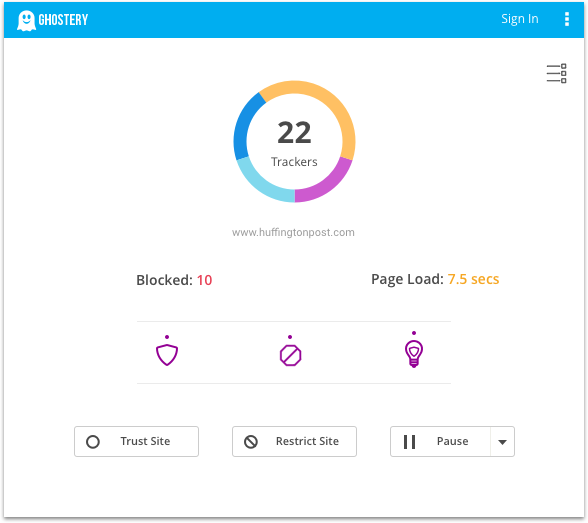 New Advanced Features
Though we worked hard to make Ghostery 8 easier to use, we also added features specifically designed for the power user.  First among these features is a new option to expand the Detail View in the extension UI.  We also added a snooze option to the Pause button, a feature in high-demand for users that are doing a lot of troubleshooting.  Additionally, Ghostery 8 will soon include new dashboards designed to offer advanced insight and information.
Browse Smarter
Ghostery has always been many things to many people.  For some, it's a privacy tool used to keep themselves off the grid.  For others, it's an adblocker that removes annoying clutter from their websites. For others still, it's an intelligence tool that helps them at school or at work.   However, for all users, Ghostery has been one thing above all else:  a way to browse smarter.
We hope you feel uncommonly smart browsing with Ghostery 8 and we promise to increase our collective browsing IQ as we continue to make our product better.  As always, please tell us what you think!
Happy Surfin',
Jeremy Tillman
Ghostery Director of Product