Ghostery Lite for Safari is Live
Ghostery Team
October 23, 2018
Ghostery Lite – a new-and-improved ad and tracker blocking privacy product for fast, simple, and safe browsing – is officially LIVE and ready for download from the Mac App Store. Lite is a privacy solution tailor-made for users on Safari. Not only does it provide robust privacy protection by blocking harmful trackers, but it also reduces your CPU footprint.
The Perfect Complement to Safari
We've designed Ghostery Lite to work alongside Apple's new privacy ecosystem by bringing to Safari users a few core, indispensable features that will function hand-in-hand with Apple's new privacy and security protocols.
Ghostery Lite delivers the tracking protection our users have come to know and love but with minimizing the need for customization or maintenance. It uses Safari's Content Blocker API to more efficiently block unwanted content, cookies and tracking scripts, thereby reducing the information Safari provides to other websites, protecting user privacy and allowing pages to load faster.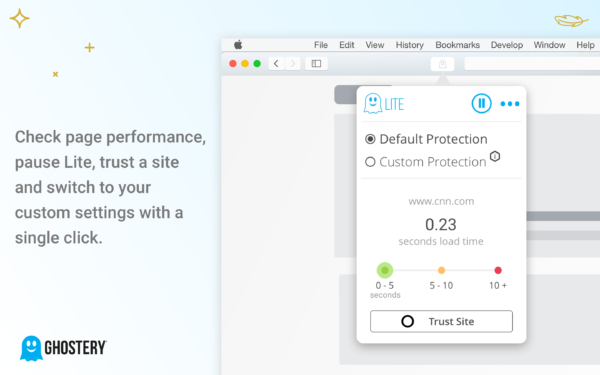 Behind the scenes, we've organized all the trackers in our extensive database by category with default settings that block advertising, site analytics and adult advertising trackers. These default settings offer immediate tracker and ad blocking upon installation, allowing you to visit the websites you love without any hassle and with a lot less clutter.
We've also included custom settings for users who would like to block or unblock specific tracker categories.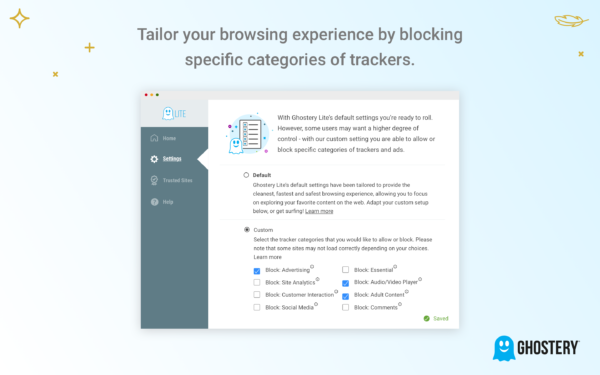 Ghostery Lite is Fast, Simple and Safe

Fast – With a reduced CPU footprint Ghostery Lite brings you the content you love, quicker.
Simple – Default settings offer immediate tracker and ad blocking upon installation, with no hassle.
Safe – Our privacy protection features guarantee the safety of your personal information.
Try Ghostery Lite today for ad and tracker blocking designed to optimize your Safari browsing experience.
The Ghostery Team
Happy Browsing!
The Ghostery Team