Ghostery and Adblock Plus - a comparison
Ghostery vs Adblock Plus – Which one is better?
There are a good number of ad blocking extensions available which may all seem the same upon first glance. However, when you dig a little deeper, you'll start to notice some important differences that will ensure the extension either lives up to or falls short of your expectations.
One of the most prominent is Adblock Plus, an ad-blocking extension that has been around for some time and remains a popular choice for many people. To get a better idea of how it fares against Ghostery, we explain how they compare so you can make a more informed decision about your online privacy.
What is AdBlock Plus?
AdBlock Plus (also known as ABP) is a browser extension that can be used to block intrusive ads and trackers, while also stopping malware spreaders and social media buttons. It is an open-source application that is community-driven, with updates regularly added. The basic version is free and you can upgrade to a paid premium service that offers more in-depth blocking options.
However, it is not to be confused with the similarly named Adblock, which came onto the market 4 years after the launch of Adblock Plus in 2005.
What platforms does AdBlock Plus work on?
You can install AdBlock Plus on the following:
Firefox
Chrome
Safari
Edge
Opera
Android
iOS
How does Adblock Plus compare to Ghostery?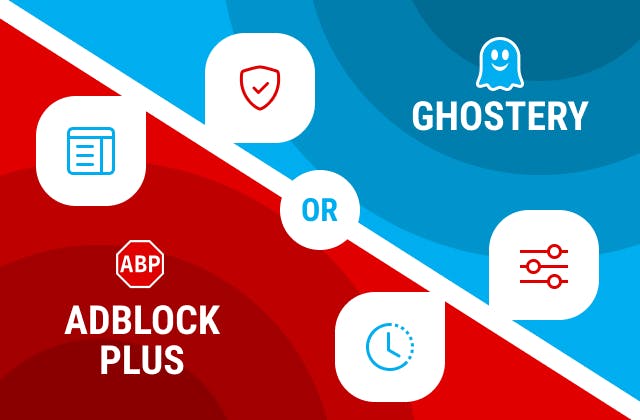 User Interface
The Adblock Plus community should be commended for their user interface, which is simple, clean and easy to navigate. The design layout is clean and encourages people who are downloading an ad blocker for the first time to investigate the settings in more detail.
Ghostery places a heavy emphasis on the design because overloading the user with too much information will not offer the help they need to get the most from the extension.
With Ghostery, it's easy to find your way around the various sections and if users are unsure about any of the features they can simply click on the 'i' icon to get a brief description.
Control options
As is the case with the design overall, on the free version Adblock Plus only offers a handful of control options.
There is 'General', which allows you to turn 'Acceptable Ads' on and off (we go into more detail about this in the Privacy section below), along with the option to turn on additional tracker blocking features. The 'Allowed Websites' section allows you to whitelist sites that can show you adverts, while the 'Advanced' option has a handful of customised features and a section for filter lists.
What is important to note about some of these settings is that they are not all turned on by default to maximise your privacy. For example, you have to opt out of seeing 'Acceptable Ads' rather than being asked to opt in.
Ghostery offers far more information about the trackers who pose a threat to your privacy online. This ensures you are more aware about the number and type of companies targeting your personal information which allows you to be more cautious and protected online.
The Ghostery browser extension automatically blocks all elements on the page that could be tracking you, which is not the case with Adblock Plus (you need to manually select some of these options) while you can also change these settings at any time.
Privacy
As we mentioned above, Adblock Plus is part of the Acceptable Ads initiative, which allows ads that are deemed to be non-intrusive to be shown on websites you visit. You can turn this off in the 'General' part of the settings section.
With Ghostery, blocking trackers is easy because all ads and trackers are automatically blocked. We do not endorse the Acceptable Ads initiative, as we believe it can compromise your privacy online as your personal data can still be captured and used without your permission by the trackers contained in the shown adverts.
Like most ad blockers around today, Adblock Plus also relies on curated lists. These are useful, although they have to be manually updated, so will never be able to offer full blocking capabilities as trackers will always be one step ahead.
The best way to stop any adverts being shown is to block them completely. Ghostery can do this because it does not rely only on curated blocklists and instead will ensure that any element of the page that could cause a problem is blocked before you see it.
Speed
When it comes to page loading speed, Adblock Plus performs well. There may be an initial small delay the first time you open the browser as it fetches and updates the blocklists, but after that pages should load faster without most of the ads being shown.
Yet while Adblock Plus performs well, Ghostery maintains the edge in this area. That's because we place a greater emphasis on page loading by removing elements that can overburden your device. This usually tends to be adverts and other unnecessary design features that can leave you waiting too long to enjoy the content.
There is also an environmental benefit to helping a web page load faster. By helping your device's CPU and memory to work more efficiently, less energy is used, which can reduce your carbon footprint and also positively impact your energy bills.
What are the pros and cons of AdBlock Plus?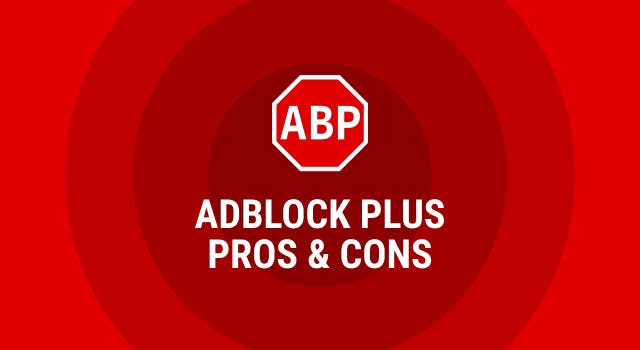 Pros
Free to download and available for desktop and mobile devices
Open-source and regularly updated by the community
Professionally designed and easy to use
Cons
Allows 'Acceptable Ads' so does not automatically block all adverts
Limited blocking features on the free version
Uses curated blocklists only
What are the pros and cons of Ghostery?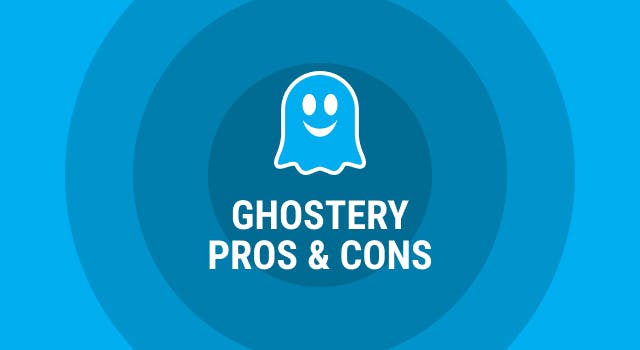 Pros
Full blocking options available without any payment
Blocks all adverts, third-party trackers and cookie pop-ups
Easy to install on Chrome, Firefox, Safari, Edge and Opera
Cons
Deeper insights into tracker information may not be suited to entry level users
Can sometimes break a page due to strong ad-blocking features (this is rare)
Summary
In summary, it's easy to see why Adblock Plus has remained a popular ad blocking extension since its creation in 2005. The user interface is clean, it doesn't affect page loading speeds and it keeps out of your way while you are online.
However, because Adblock Plus allows what they view as acceptable ads (they say these are ads that are not intrusive or annoying) it cannot be classed as a full ad blocker. There is not much of a case to be made for running it alongside Ghostery, as our app automatically blocks all pop-ups and intrusive ads to ensure you have more privacy online, which means the acceptable ads allowed by Adblock Plus would also be removed.
So, after weighing up the pros and cons, we believe Ghostery remains the best ad blocking extension around as it offers the high level of privacy you deserve at all times.   
Take control of your digital privacy today!
Compared to opting out or cookie blocking, downloading the Ghostery Privacy Suite is a more efficient way of enhancing your online privacy.
Get in touch with our team if you have any questions - we are always happy to help!
FAQ
Is Ghostery better than AdBlock?
Ghostery and AdBlock Plus offer similar privacy protection. The main differentiator between the two is that AdBlock Plus builds on the concept of Acceptable Ads, allowing publishers and advertisers to reach Adblock Plus users with specific type of ads.
Is Ghostery an ad blocker?
Yes, Ghostery is an enhanced ad blocker which blocks pop-ups, annoying ads, spying trackers and even Youtube ads.
What is the most trusted ad blocker?
The most trusted ad blocker is normally the one with the biggest advertising budget if you look at user numbers. However at Ghostery we believe that the most trusted adblocker is one that follows the guiding privacy principles of uBlock Origin, Privacy Badger, AdGuard, and Ghostery.
Can I trust Ghostery?
Our code is open source, you can inspect it on Github anytime and form an own opinion.
Still have questions?
If there is anything you miss in Ghostery or have any questions, please drop a line to support@ghostery.com. We're happy to talk to you anytime.