Ghostery and Privacy Badger - a comparison
Is Ghostery a good alternative to Privacy Badger?
When it comes to finding the best ad blocker or privacy enhancer for your browser, you'll find that there are a few options available to install. One of the most well-known is Privacy Badger, a free tracking blocker that enhances your privacy online. We take a look at Privacy Badger, which is an alternative to Ghostery Anti-Tracking, to give you a better idea of how they compare against each other.
What is Privacy Badger?
Privacy Badger is a free privacy extension that can be installed on multiple browsers and was created by a non-profit organization called the Electronic Frontier Foundation in 2014. It can be used to block trackers, and other privacy invading elements that you may not be aware of whilst browsing the web.
What platforms does Privacy Badger work on?
Privacy Badger can be installed on the following browsers:
Firefox
Chrome
Firefox on Android
Microsoft Edge
Opera
Whilst you can use Privacy Badger in Chrome and other browsers, it is not currently available for Safari, so it is not a suitable option if you want a free tracker blocker for iOS products.   
How does Privacy Badger compare to Ghostery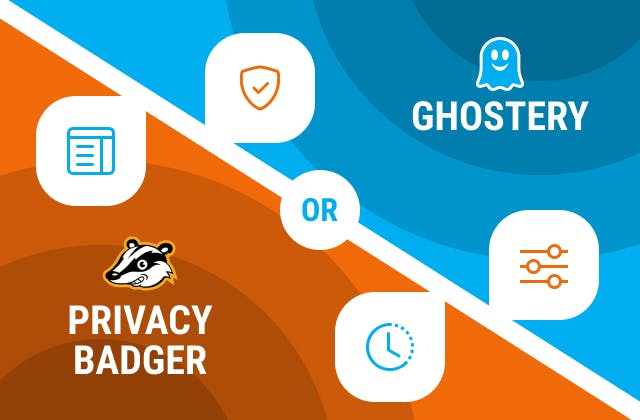 User interface
The user interface (UI) is important as the easier it is to use, the more you will be able to benefit from the extension.
Privacy Badger encourages people to only interact with the UI if you notice an issue. So, it doesn't expect the user to spend much time in the mechanics of the extension and this is reflected in the UI.
In comparison, Ghostery actively encourages people to engage with the UI and learn about trackers and the simple, professional design enables you to do that.  
All the information you need is presented in a clean format without any unnecessary distractions, so you can navigate and find what you need quickly and easily.
With Ghostery, it's a simple case of ticking boxes of the options you want to activate and if you aren't sure what they do, simply click on the small 'i' icon to get a helpful explanation.
Control options
Both extensions give you a lot of control over the type of elements you can block online. However, Privacy Badger is the less educational of the two, providing fewer insights into who is tracking you. 
If you want more information about who is spying on you online, then Ghostery is the way to go.  You'll get more insight about the type of companies following you, so you are more aware of what to look out for whilst browsing. 
Some people may not care to learn about the trackers and will be happy to let the extension get on with its job. Ghostery can do that too, but with the option to learn more about each tracker you may even be able to take advantage of some of their individual benefits if you choose not to block them.
Privacy
As a non-profit organisation, you have some assurances that Privacy Badger will not be collecting your data for profit. The extension is open source, which means contributors from all over the world can offer code updates to improve its functionality.
Ghostery is also open source and benefits from an active community of developers who are involved in improving the privacy of everyone that uses the extension.
There is also an important distinction to make between the two extensions. Privacy Badger is not an ad-blocker, although it may still block some of them once activated. Instead, it is a third-party tracker blocker that prevents unwanted sources from following you around the web.
On the other hand, Ghostery also blocks ads and trackers, giving you all-round protection online, placing strong security around your personal information. 
Speed
When it comes to improving page-loading speed, Ghostery being an ad blocker leads the way. It helps to declutter web pages that are overloaded with too many resources, speeding up page loading and making your internet bandwidth and battery work more efficiently for you.  
Privacy Badger can offer some advantages in terms of page loading speed. Being limited to blocking only trackers, it doesn't have the same range of capabilities as Ghostery in this area.
What are the pros and cons of Privacy Badger?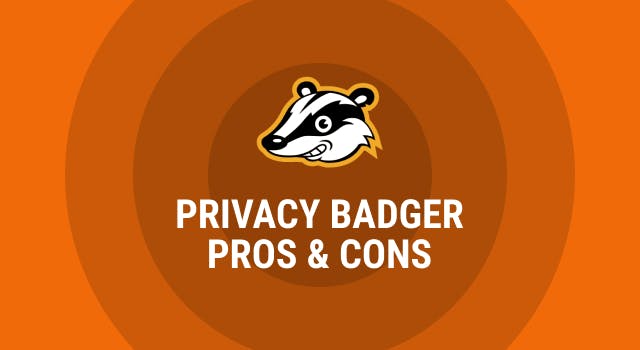 Pros
Automatically blocks third-party trackers
Available for multiple browsers including Firefox on Android
Easy to set up and use
Automatically detects trackers and does not use curated blocklists 
Cons
Is not designed to block adverts and cookie consent dialogues
Not available for Safari (iPhones/Apple Mac etc.)
Not as user friendly as other similar extensions
What are the pros and cons of Ghostery?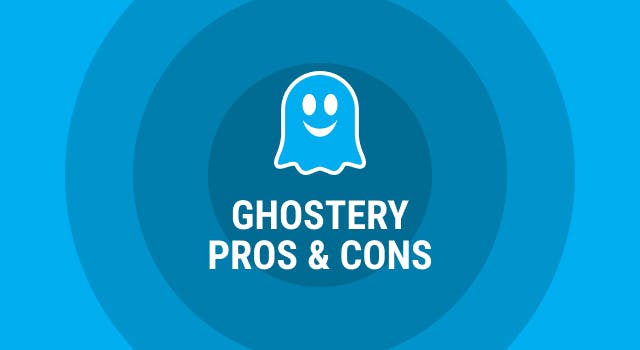 Pros
Blocks adverts, third-party trackers and cookie popups
Can be installed on multiple browsers including Safari
Offers private search and detailed tracker analysis
Automatically detects trackers and does not rely only on curated blocklists
Cons
In-depth tracker analysis may not be suitable for everyone 
Not available on Chrome on Android as Chrome does not allow extensions – but is downloadable for Firefox on Android  
Blocks more aggressively so there may be a higher chance of breaking a page
Summary
There are similarities between Privacy Badger and Ghostery in some areas, although they do specialize in their own areas. For example, Privacy Badger focuses on third-party blockers and performs that task very well, whilst Ghostery excels at blocking ads, trackers and popups. So, if you are looking for an alternative to Ghostery, we recommend using Privacy Badger paired with uBlock Origin, which will give you the same level of strong protection provided by Ghostery alone.
Privacy Expert Tip
As alternative to Ghostery, we recommend using Privacy Badger paired with uBlock Origin, to have similar coverage as with Ghostery.
FAQ
Is Ghostery better than Privacy Badger?
Ghostery serves more needs than Privacy Badger. While Privacy Badger blocks trackers and some ads, Ghostery is a full fledged adblocker and anti-tracking tool in one. It blocks ads, trackers and cookie consent popups, choosing optimal privacy settings, so you can enjoy peace of mind while browsing the web.
Does Ghostery hide your IP?
Ghostery does not hide your IP. To hide your IP the best complement to Ghostery is a VPN service. Suggested reading: Ghostery and VPNs - The Privacy Duo Explained.
Is Ghostery safe?
Ghostery is safe and proud to be supported by a community of contributors. Ghostery is open source and you can probe our code anytime by checking our Github repository.
What is the most trusted ad blocker?
When choosing an adblocker for your browser, you should make sure you choose one with plenty of positive reviews and download it from a secure place. We suggest you read our article on What is the best ad blocker before making a choice.
Still have questions?
If there is anything you miss in Ghostery or have any questions, please drop a line to support@ghostery.com. We're happy to talk to you anytime.