What Consumers Want from a Privacy Bill of Rights
Ghostery Team
juillet 7, 2020
Consumer Privacy Bill of Rights Report
Today we released our Consumer Privacy Bill of Rights Report, revealing a disconnect between consumer trust in data handling practices by big tech companies and the government, and their expectations around personal data ownership as a constitutional right.
The study, conducted online with the third-party research firm YouGov, uncovered not only consumers' gripes around the current approach big tech companies and the government are taking with consumer privacy, but also outlined consumers' own ideas for what a fair legal framework for data privacy would look like – including consent and monetary payment for certain pieces of information.
Key Findings
More than 3 in 4 Americans (77%) agreed that ownership of their personal data should be a constitutional right.
More than 4 in 5 Americans (83%) agreed they deserve the right to give clear and explicit consent to any company before any data collection begins.
3 in 4 Americans (75%) agreed that if any company wants to use their data, they should be paid for it.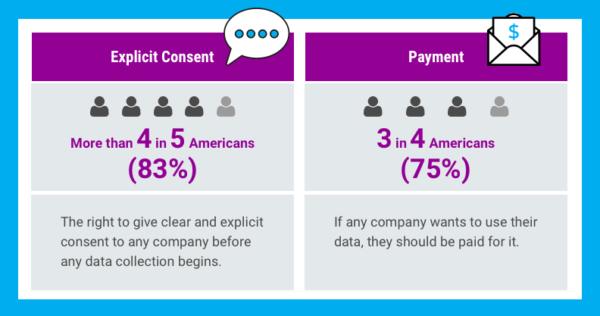 To see the full report, visit our press release or view the PDF.