Hello Ghosterians,
We are pleased to announce that on May 26th, Ghostery will be offering all our paid features for a single subscription tier, Ghostery Plus, at $4.99*/mo. ($3.99/mo. for annual plans). That means that you can get even more privacy features for one low price.
Better yet, Ghostery Insights, our privacy intelligence product, will now be available to all Plus subscribers. When we launched Insights, we initially built it for professional users that wanted to analyze how trackers and tags impacted websites. However, we have learned that regular users had a similar curiosity on how the hidden web works. On May 26th, our Plus subscribers will have this ability.
Despite this good news, we do have some sad news. On June 15th, we will be discontinuing our desktop product, Ghostery Midnight. We are proud of what we built in Midnight, but we feel like this is the right moment to focus our efforts on our core product offering as we build the world's most private browsing technologies.
Ghostery continues our commitment to build the world's most powerful suite of privacy products with advanced features and technologies. This includes continued development of our new privacy browser (Ghostery Dawn) and search (Ghostery Glow) alongside the Ghostery Extension and Insights.
With the enhanced Plus subscription tier, users will be able to access all Ghostery's paid features across all products for one low price, including:
If you are a current subscriber or user and want to learn what this means for you, please read the details summary and details below.
Short Summary:
Starting May 26th, we will begin to transition all subscription plans to Ghostery Plus (4.99/mo. or 3.99/mo. for annual plans)
Current monthly Premium and Insights subscribers will be transitioned to our Plus subscription for $4.99 per month at the end of their next billing cycle.
Current annual Premium subscribers will be transitioned to a Plus plan (3.99/mo. Billed annually) on May 26th. These subscribers will be credited the remaining prorated amount of their Premium plan to their accounts.
Ghostery Insights will now be available to anyone with a Plus subscription.
Ghostery Midnight will be shut down on June 15th
Below is a detailed description of the changes to each of our subscription tiers.
Premium and Insights Subscribers
Monthly subscribers of our Premium and Insights plans will be transitioned to our 'Plus' plan at the start of their next billing cycle at $4.99/mo. Annual subscribers of Premium will be transitioned to Plus on May 26th at $3.99/mo. billed annually. Any unused portion of subscribers' Premium subscription will be credited to their accounts and applied to the next billing cycle.
Plus Subscribers
Plus subscribers will largely have the same access to great Ghostery products and features with two important changes. First, Plus subscribers will get complete access to Ghostery Insights, our privacy intelligence tool previously only available to our business customers. Second, Plus subscribers will lose access to Ghostery Midnight when the product shuts down on June 15th.
Free Users
Free users will have access to all the same free features in Ghostery, Dawn, and Glow. However, there were limited free features in Ghostery Midnight that will no longer be available when the product is shutdown on June 15th.
Previous Promotional Discounts
All promotional codes that were applied before the update that are still valid will continue to be honored. For example, if you redeemed a promotional code for 50% off your first three months on May 1st and your billing cycle renews on June 1st, your July 1st payment will automatically deduct 50% off the new $4.99 price. If you have a coupon code and it is for a discounted dollar amount, we will convert this to an equivalent percent discount coupon. For example, if you have a coupon that discounts $6 from your $11.99 monthly Premium plan, this will be replaced with a 50% coupon off of a monthly Plus plan.
List of Features by Plan
Below is a summary of the features available with the new subscription tiers: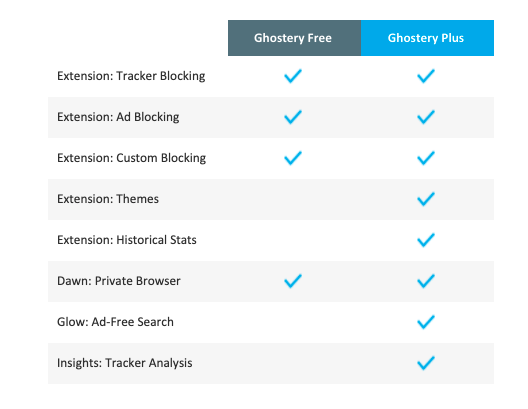 Below is a detailed description of the changes coming to Ghostery Insights and Ghostery Midnight:
Changes with Insights
The core features of Ghostery Insights will remain unchanged. However, as mentioned above, these features will be available to all Plus subscribers. Additionally, Ghostery Insights will soon be available on Firefox and our own Ghostery Dawn browser in addition to Chrome.
Changes with Midnight
For Ghostery Midnight to block ads and trackers, it needs special access to your computer's network settings to view and modify internet activity. Continuing use of Midnight without any official support poses an increased risk to connection issues and potential security vulnerabilities over time. Consequently, we will be completely disabling Midnight on June 15th. We recommend fully uninstalling Midnight to prevent any issues from occurring in the future.
To uninstall Midnight:
MacOS: Navigate to the Midnight menu at the top left of the screen. Navigate to 'Help' -> 'Uninstall'.
Windows: Select the 'Start' button then navigate or search for 'Apps & features'. Select Ghostery Midnight and then 'Uninstall'.
Users subscribed to Premium, regardless of when the account transitions to the Plus subscription, will continue to have access to the VPN up until June 15th, but not after.
Closing Thoughts
We're excited with the direction Ghostery is headed but we know that these are a lot of changes. Given these updates, if you feel like you need to change or cancel your account, you can do that by following this link. If you have any additional questions, comments, or refund requests, you can contact us at support@ghostery.com.
Happy Browsing,
The Ghostery Team
*Price varies based on geographic location.