Using social media of any kind removes the possibility of complete privacy. But there are ways to change your privacy settings to reveal as little personal information as possible outside of what you want to share.
Facebook, in particular, is known for the vast amount of data it collects on both users and non-users alike. This social media giant tracks nearly 30% of global website traffic according to a previous Ghostery study. Ever since the Cambridge Analytica scandal, Facebook has received a long list of criticisms regarding privacy.
If you choose to use Facebook or, Facebook-owned, Instagram, take a look at your privacy settings to ensure you are protecting your personal data as best you can.
Facebook privacy settings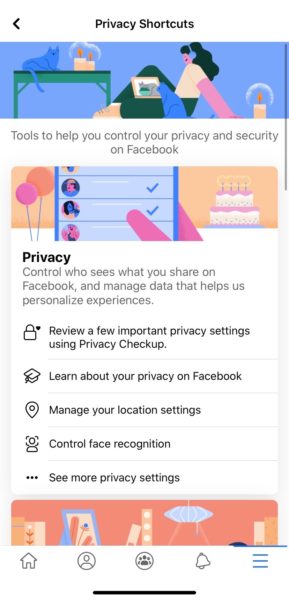 To get to the privacy settings of your Facebook account from a mobile device, open the menu (three horizontal lines) > select the Settings & Privacy dropdown > and choose Privacy Shortcuts.
From here, tap the top option to Review a few important privacy settings using Privacy Checkup. Review each of the four categories shown and consider the following adjustments:
Who can see what you share
Make sure none of the details here are set to Public. If they are, change them to either Friends or Only me.
How to keep your account secure
How people can find you on Facebook
Phone numbers and emails often aren't as personal as you might think. Consider changing these settings so only Friends can look you up using this information.
Your data settings on Facebook
Here you can see other apps and websites you've used your Facebook account to log into. Remove, remove, remove. Using third-party logins creates increased privacy & security risks by linking all of your accounts to one place. It also increases the reach of Facebook's tracking.
Once you're done, return to the Privacy Shortcuts menu. Scroll down to Ad Preferences and tap See your ad settings.
Adjust both of these settings to Not Allowed. This limits the tracking and data collection Facebook uses to target you with ads both on and off the platform itself.
Instagram privacy settings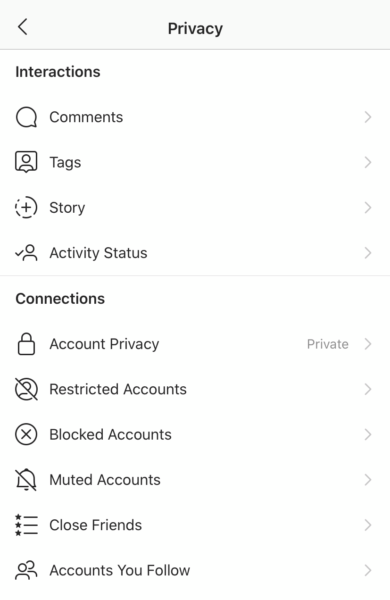 To get to the privacy settings of your Instagram account from a mobile device, open the menu on your profile (three horizontal lines) > select Settings > and choose Privacy.
Under the Interactions section, you can adjust things like who can comment on your posts, how you're tagged in posts, and who can view your stories. If you only want approved followers to be able to view the photos and videos you share on your account, make sure your Account Privacy is set to Private, in the Connections section.