In our last post, we covered how to make your personal information more secure on Facebook and Instagram. Moving on to two other social media giants, let's go through how to change your privacy settings on Twitter and YouTube.
Twitter Privacy Settings
Twitter practices a similar business model as Facebook – collect and use user information for personalized ads. Twitter is also guilty of sharing this information with other third parties. Consider adjusting the settings below to better protect your privacy on this platform.
To get to the privacy settings of your Twitter account from a mobile device, tap your profile icon > select Settings and privacy > and choose Privacy and safety.
To start, we highly suggest making your profile private by enabling the first option to Protect your tweets.
Next, scroll down a bit to Discoverability and contacts. Like Facebook, Twitter lets you control how people are able to find your profile. As mentioned, phone numbers and emails often aren't as personal as you might think. Consider keeping these options turned off.
Just below Discoverability and contacts is the Location section. Precise location data can be very sensitive, and Twitter blatantly says it uses this information for ads. Disable this setting to keep your location information private.
Lastly, the meat and potatoes of these privacy settings, Personalization and data. To make it easy, we suggest disabling the top option, which will automatically turn off all of the options listed below. This will provide the highest level of privacy in this section. However, if you enjoy some levels of personalization, go through each option to decide what's best for you.
YouTube Privacy Settings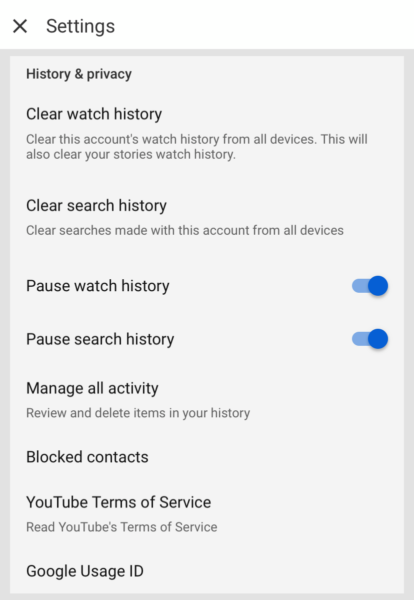 As many of you may know, YouTube is a Google company. As such, most of your privacy settings are associated with your Google account, which you can edit here. However, there are a few settings you can adjust from your YouTube app.
To get to the privacy settings of your YouTube account from a mobile device, tap your profile icon > select Settings > and scroll down to History & privacy. Here you can both clear and pause your watch and search history.
If you select Manage all activity, you are redirected to the YouTube History portion of your Google account settings. The bottom option allows users to choose how long their activity is stored. Considering changing this to the shortest time frame, 18 months, unless you believe you will manually delete this information more frequently.