Providing Comprehensive Tracker Analysis
Audit all third-party tracking technologies from one entry point to improve digital user experience and website performance.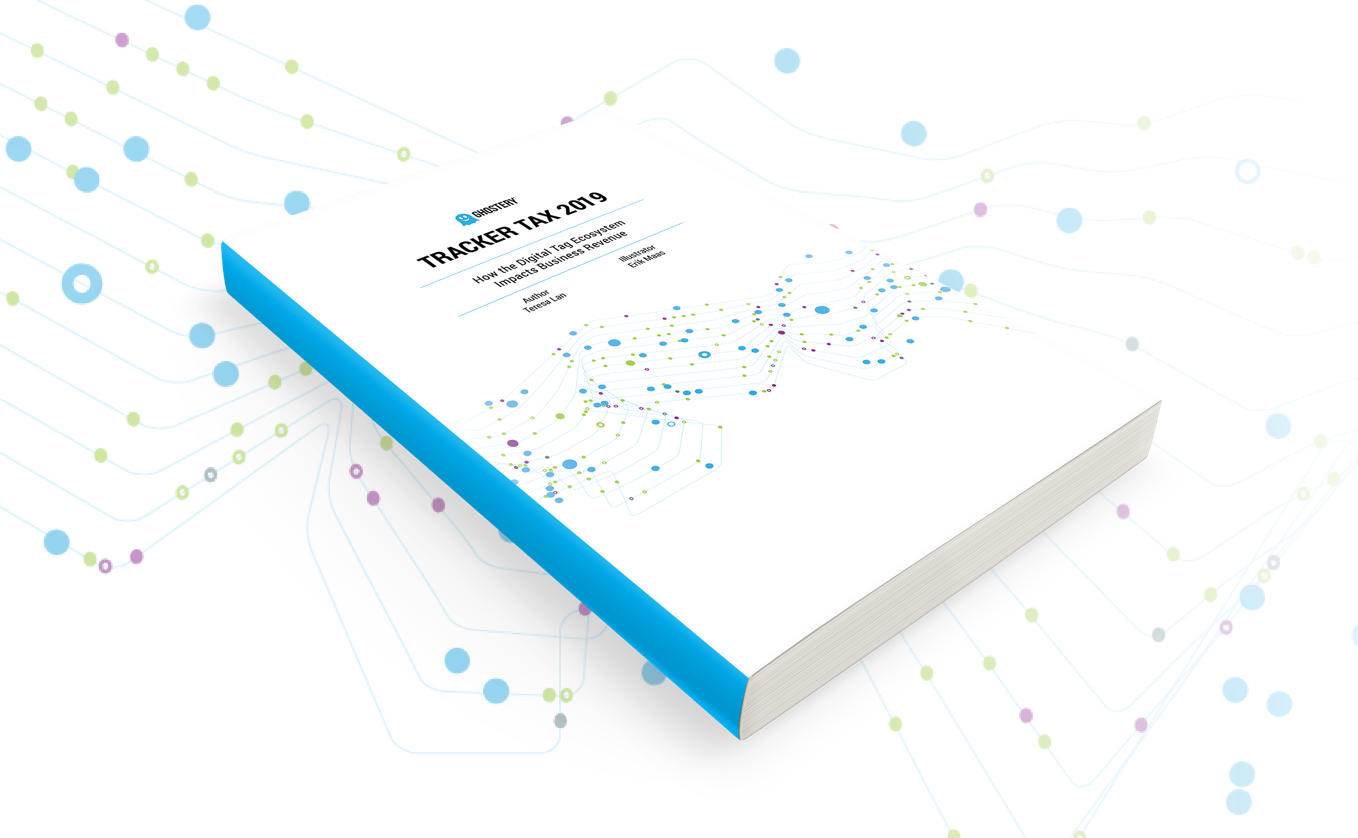 FREE EBOOK
Tracker Tax 2019
Learn how crucial a clean tag ecosystem is to maintaining a fast and optimized website.
Download Now
A few reasons Ghostery Insights is the right product for you and your team.
Ghostery Insights is a tracker analysis tool designed for teams. Gather intelligence and analytics about the tags and trackers on your website or others to optimize your page and fuel your business.
Manage Campaigns
Validate tracking scripts, ensure pages are optimized before launching your campaign and improve ROI
Script and Tracking Audits
Test, troubleshoot and optimize how tags and scripts are implemented on a website
Forensic Tracker Analysis
Gather intelligence and analytics about the tags and trackers on your website or others
Improved User Experience
Identify privacy risks that may impact user security, page performance and violate compliance law
Learn about Ghostery Insights features
Intelligent Tools, Powerful Insights
The tracker list provides a deep dive into what trackers and scripts are operating on a website
It helps monitor tags to ensure they are firing correctly, while revealing uninvited, piggy backed trackers
It includes a "Favorite" feature, to pin trackers to the top of the list whenever they appear on a page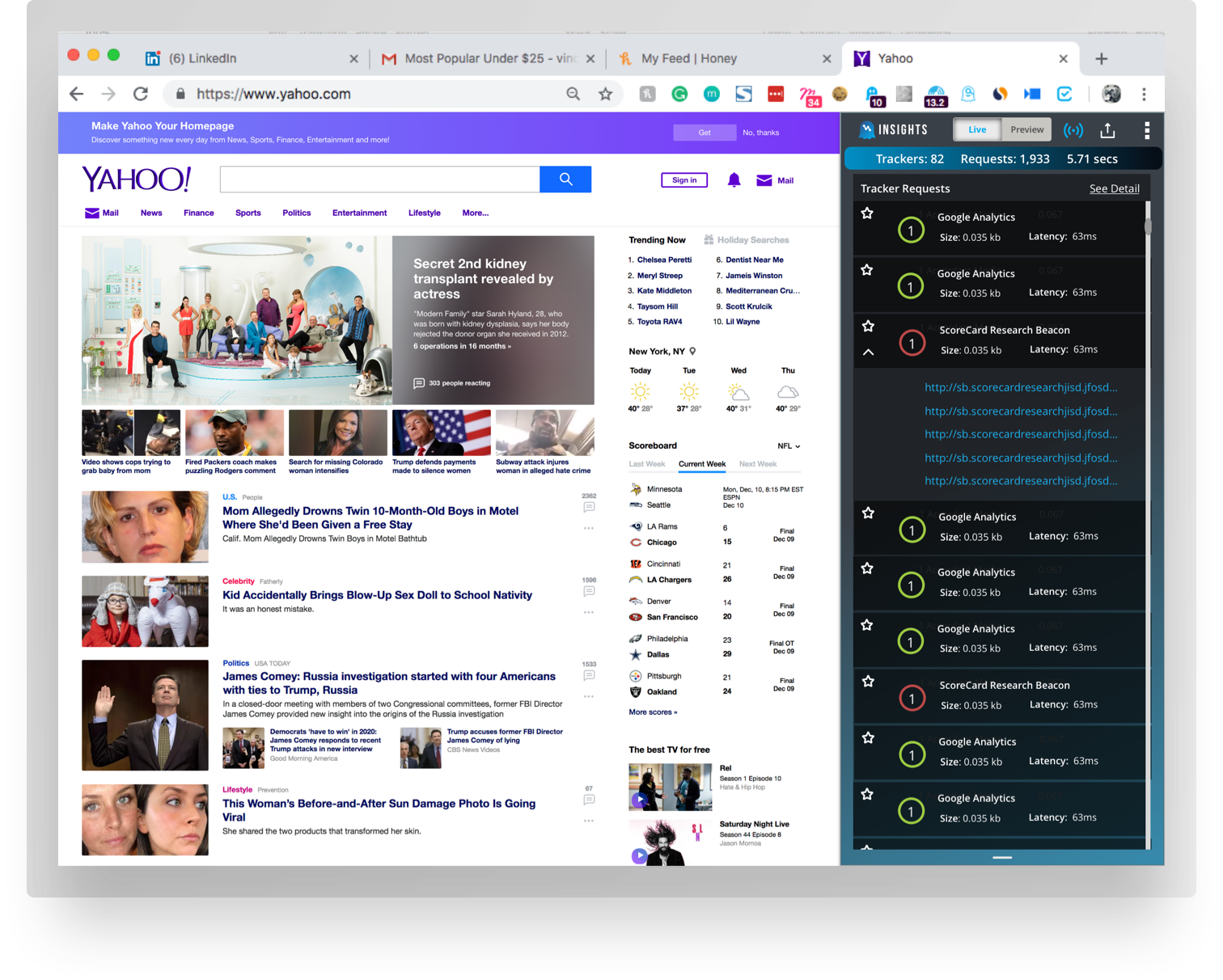 Timeline Analysis visualizes each tracker's ping behavior in real-time as the page loads
It reveals which trackers are negatively impacting page performance, how, and when
Lastly, it includes a customizable data display: select which page events to show, and toggle between a linear or logarithmic display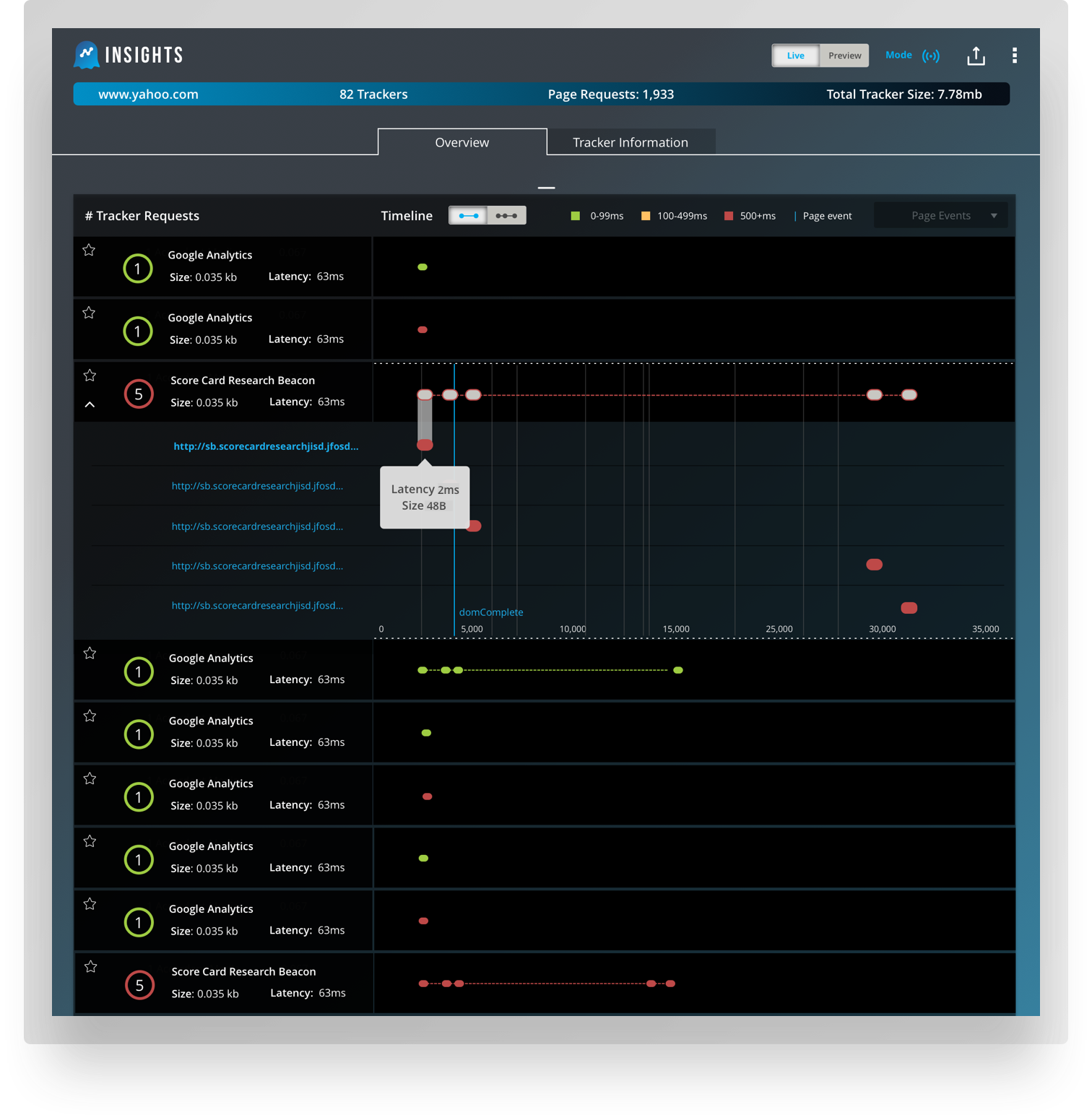 The Distribution Chart evaluates and displays trackers by size and latency
With scatterplot visualization the chart makes it easy to identify outliers at a glance
It works hand-in-hand with the Timeline Analysis feature; with once click view corresponding tracker data in the timeline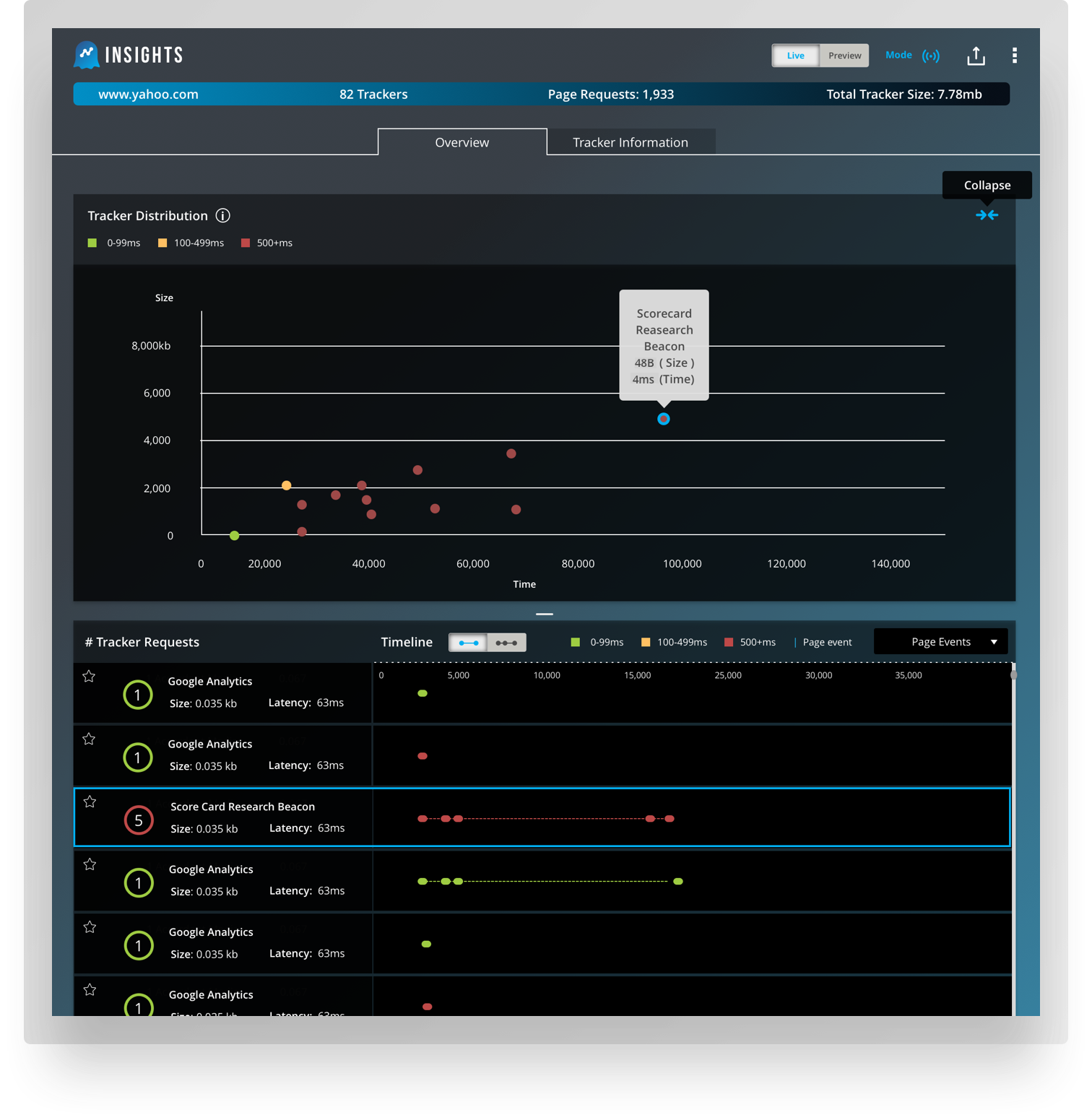 The page performance panels provide an in-depth look into the page load process (and relevant tracker impact)
Our page latency graph breaks down the initial load of a web page into categories of processes, organized by events
The Page Size panel shows what portion of a website's overall size can be attributed to trackers in addition to other elements of the page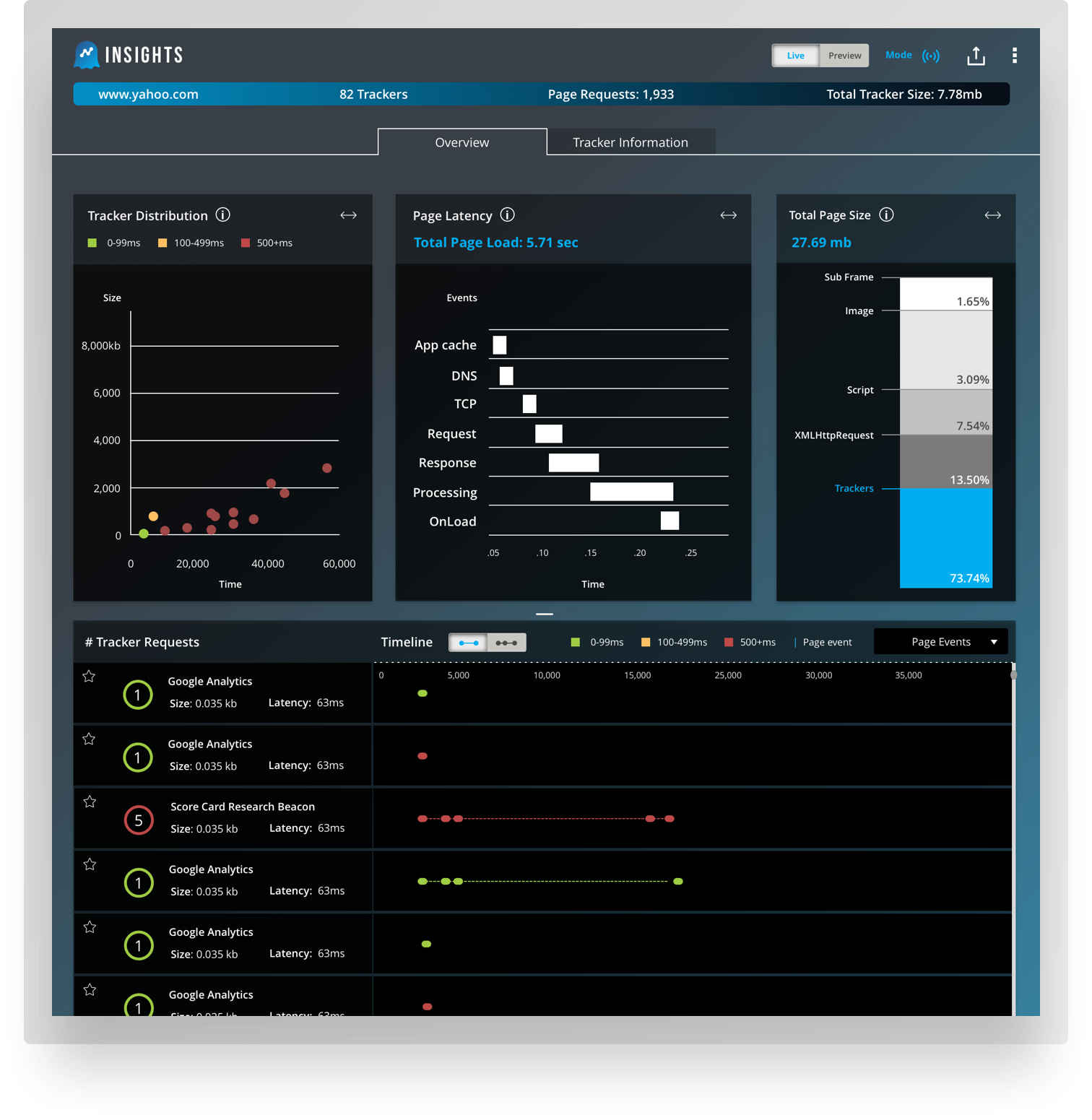 The Global Trends tab displays privacy-related statistics and usage trends for specific trackers and websites
Utilizes data from our web profiling database
The global data includes the reach of the tracker across the web, tracker category, the type of tracking it does and the type of website it is found on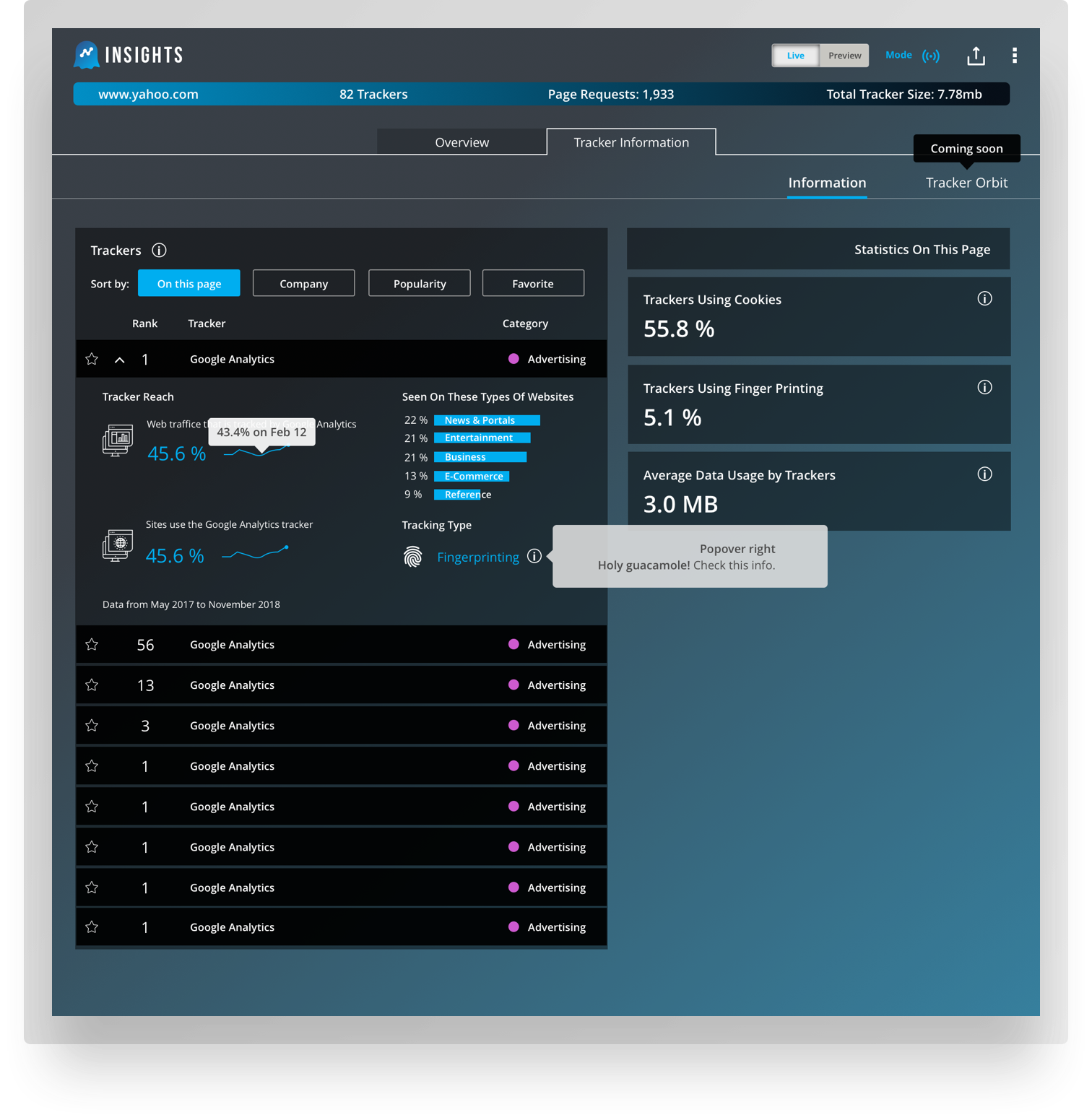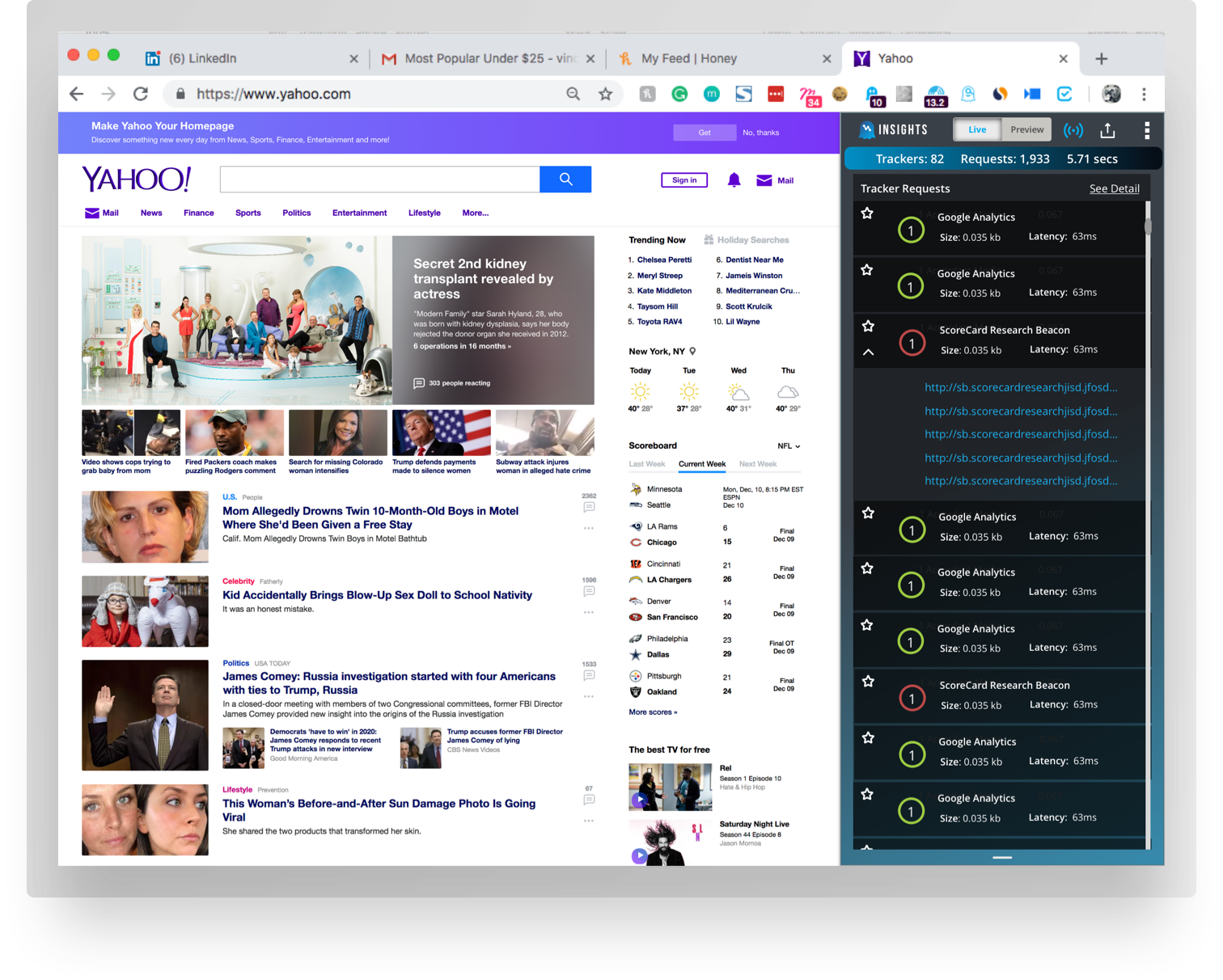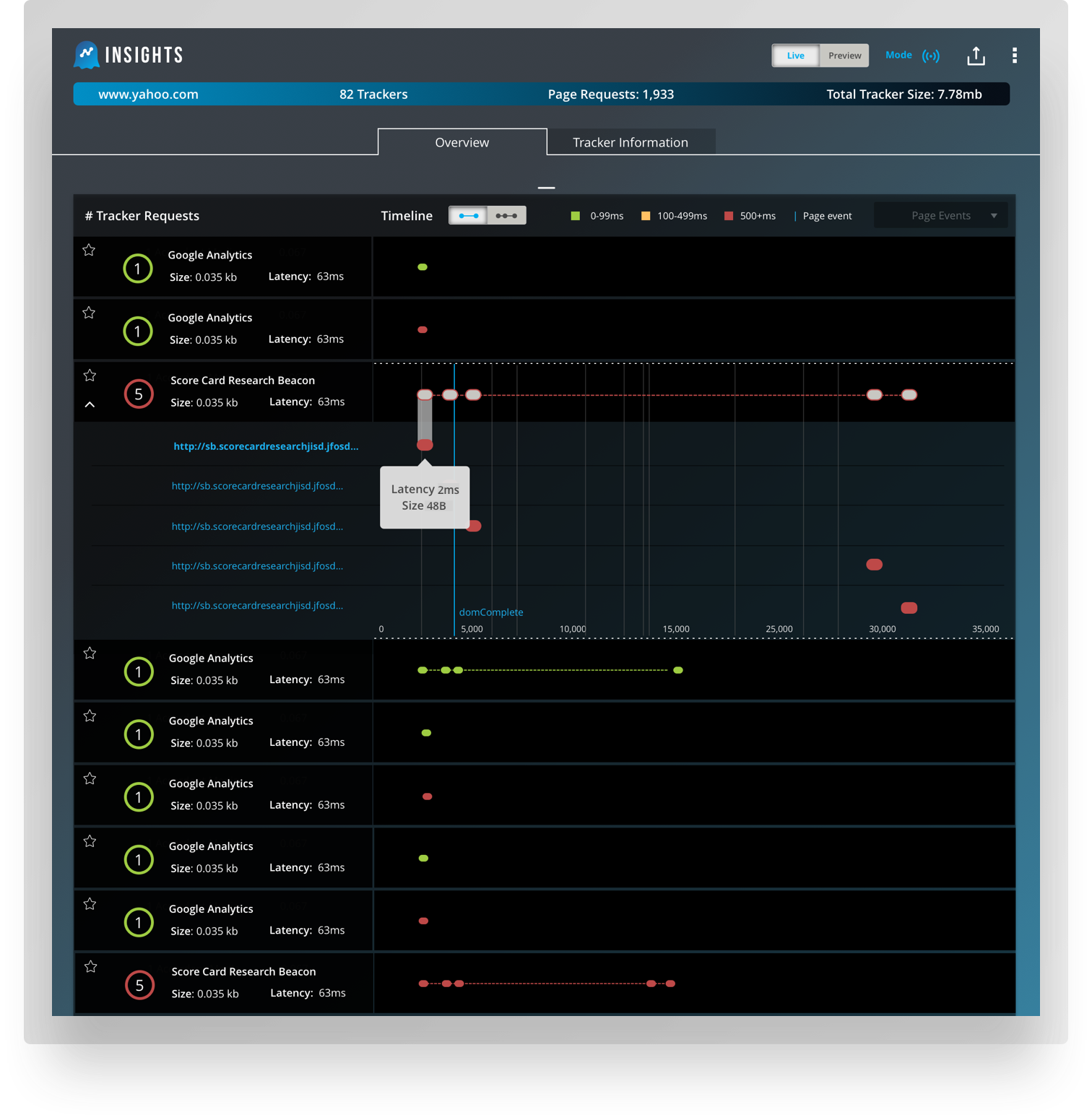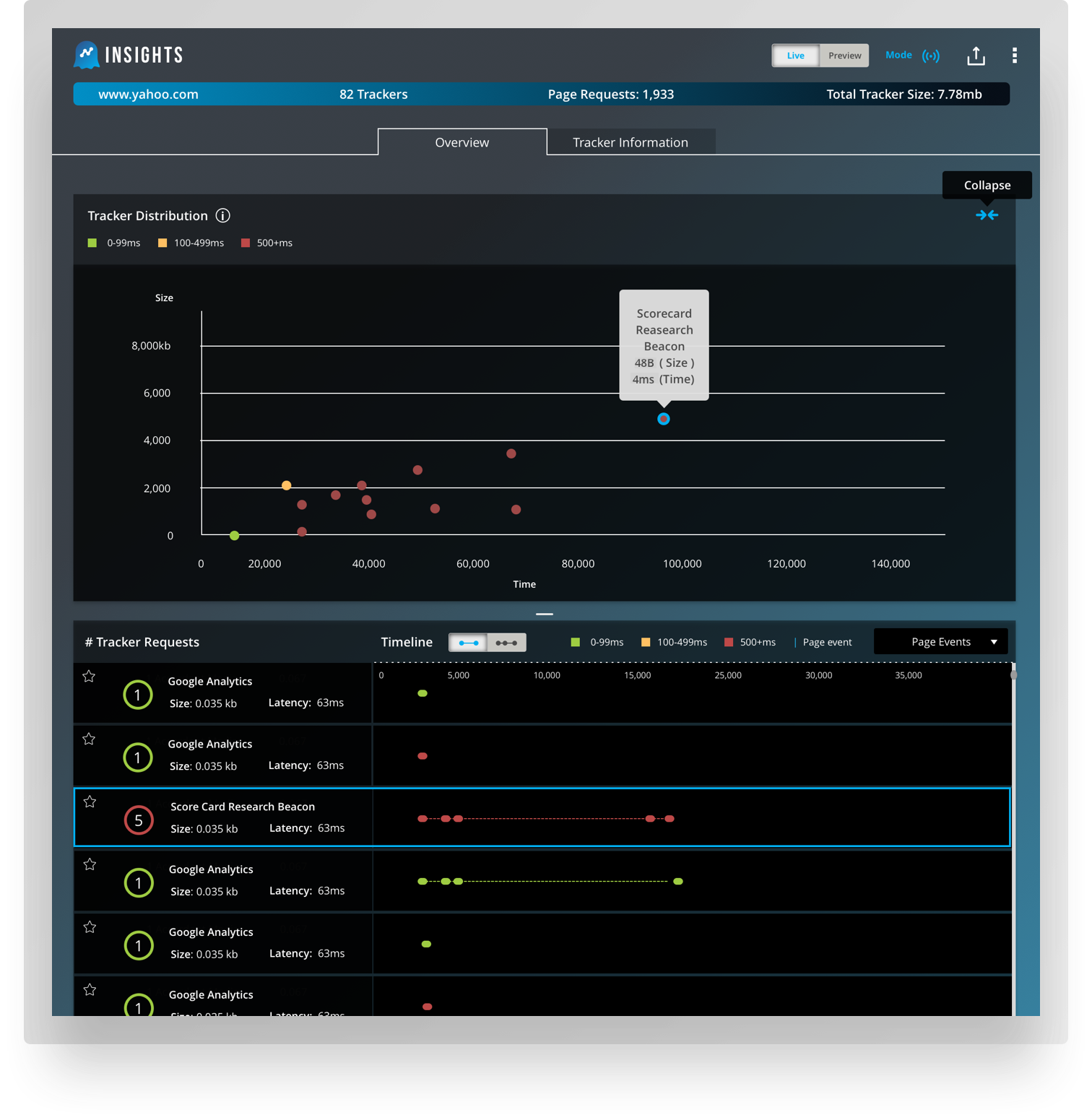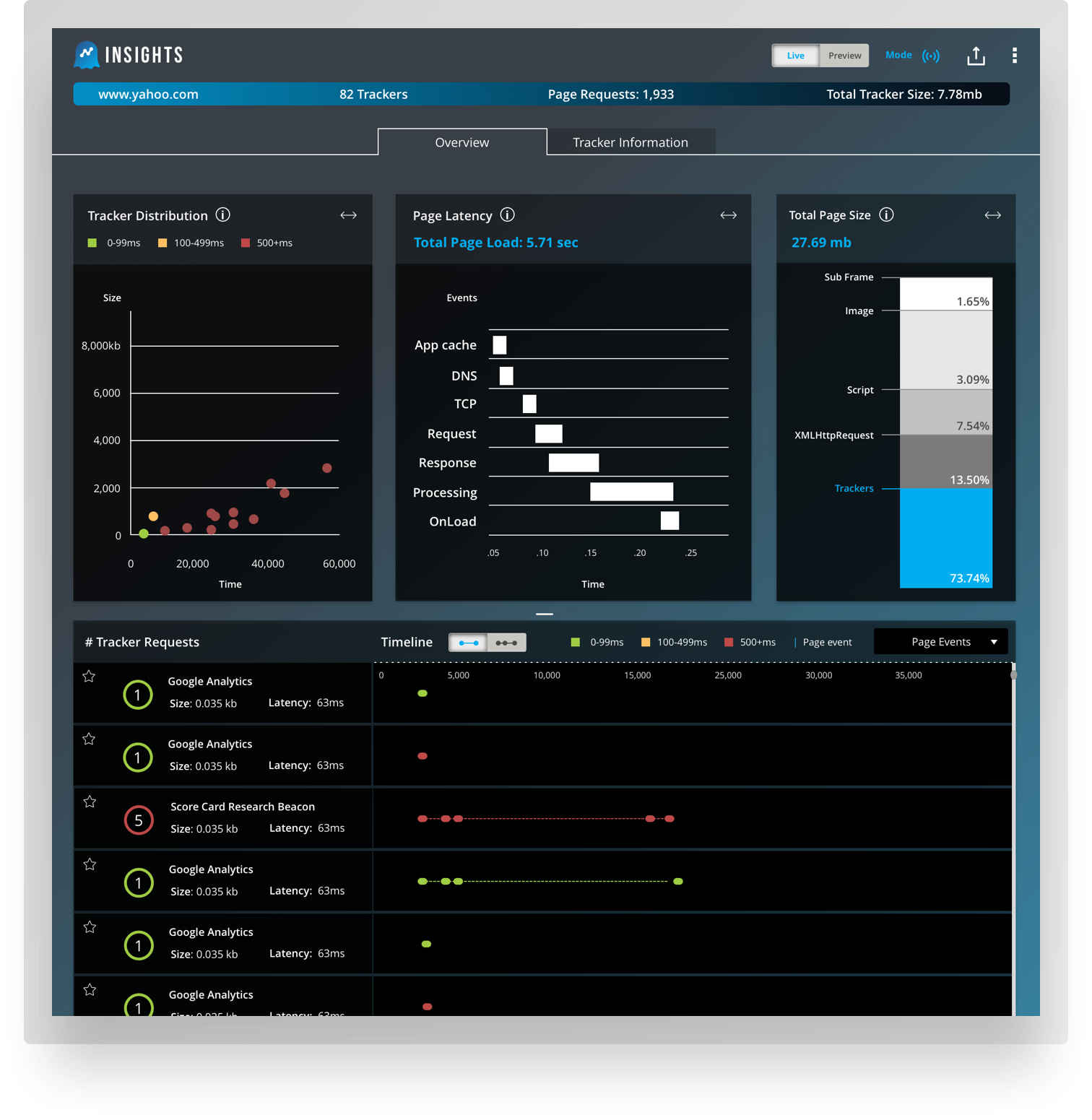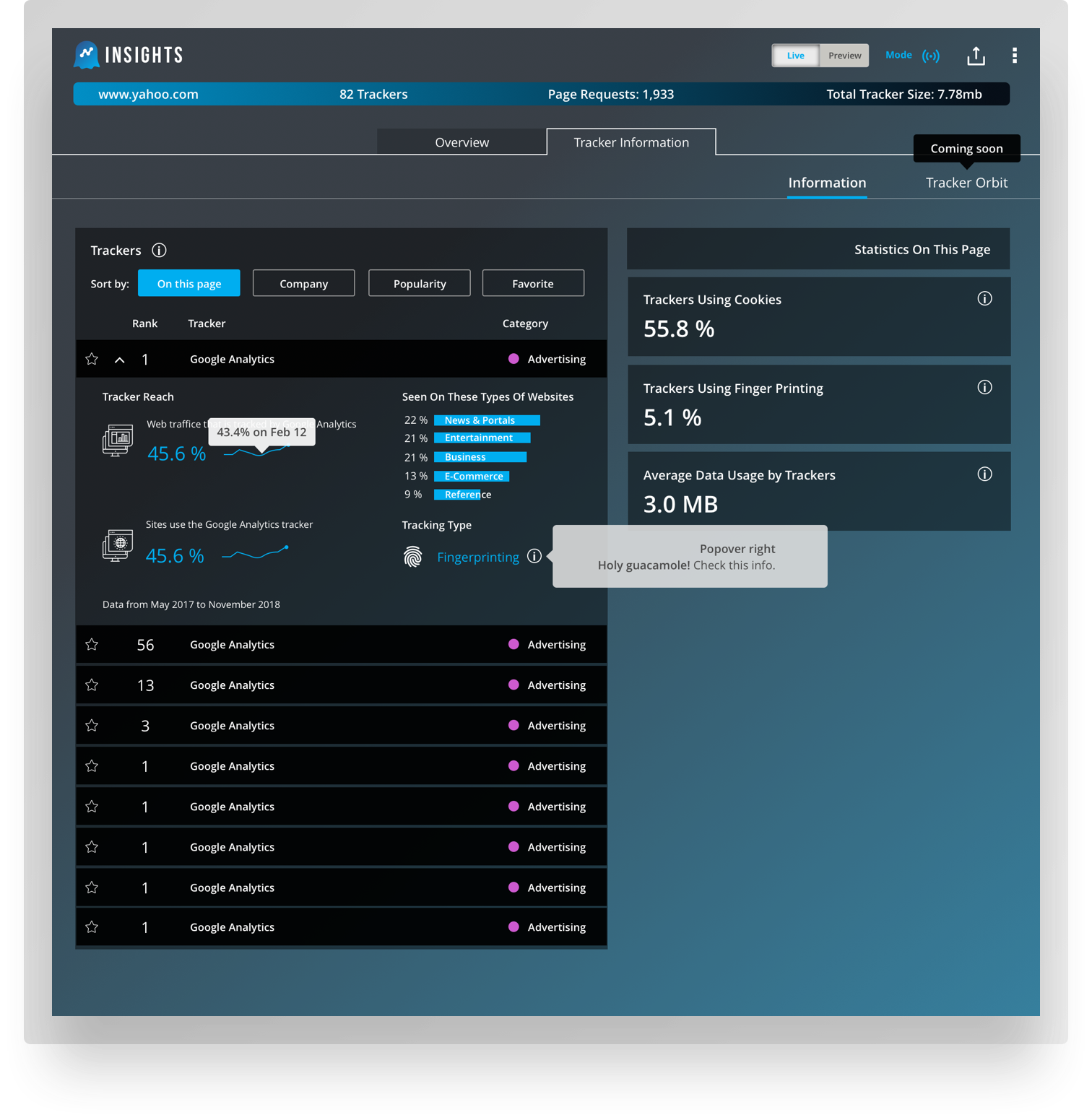 Request List
The tracker list provides a deep dive into what trackers and scripts are operating on a website
It helps monitor tags to ensure they are firing correctly, while revealing uninvited, piggy backed trackers
It includes a "Favorite" feature, to pin trackers to the top of the list whenever they appear on a page
Timeline Analysis
Timeline Analysis visualizes each tracker's ping behavior in real-time as the page loads
It reveals which trackers are negatively impacting page performance, how, and when
Lastly, it includes a customizable data display: select which page events to show, and toggle between a linear or logarithmic display
Tracker Distribution Chart
The Distribution Chart evaluates and displays trackers by size and latency
With scatterplot visualization the chart makes it easy to identify outliers at a glance
It works hand-in-hand with the Timeline Analysis feature; with once click view corresponding tracker data in the timeline
Performance Insights
The page performance panels provide an in-depth look into the page load process (and relevant tracker impact)
Our page latency graph breaks down the initial load of a web page into categories of processes, organized by events
The Page Size panel shows what portion of a website's overall size can be attributed to trackers in addition to other elements of the page
Global Tracker & Site Data
The Global Trends tab displays privacy-related statistics and usage trends for specific trackers and websites
Utilizes data from our web profiling database
The global data includes the reach of the tracker across the web, tracker category, the type of tracking it does and the type of website it is found on