GHOSTERY PRIVATE SEARCH
PRIVACY MADE EASY
Ghostery Private Search Engine gives you unbiased results, detects & reports trackers before you visit a site, and delivers ad-free results for Contributors.
Objective
The Ghostery Private Search engine delivers objective results that are not influenced by your clicks or preferences.
Private
Ghostery allows you to search privately. We do not record your search history or personal data.
Transparent
Ghostery scans the web with the help of Whotracks.Me
. This unique feature in a privacy search engine shows you the trackers that want to collect your data and provides you with real-time insights on them.
Ad-free*
Our Private Sponsored Links are tracker-free affiliate links that support us and respect your privacy. Become a Contributor to enjoy a private search experience with no ads.
PRIVACY YOU CAN SEE
Cover your tracks while searching with one of the best search engines available
Unlike other search engines that track your online activity and sell your personal data, Ghostery Private Search does not log your search history or filter your results based on your profile.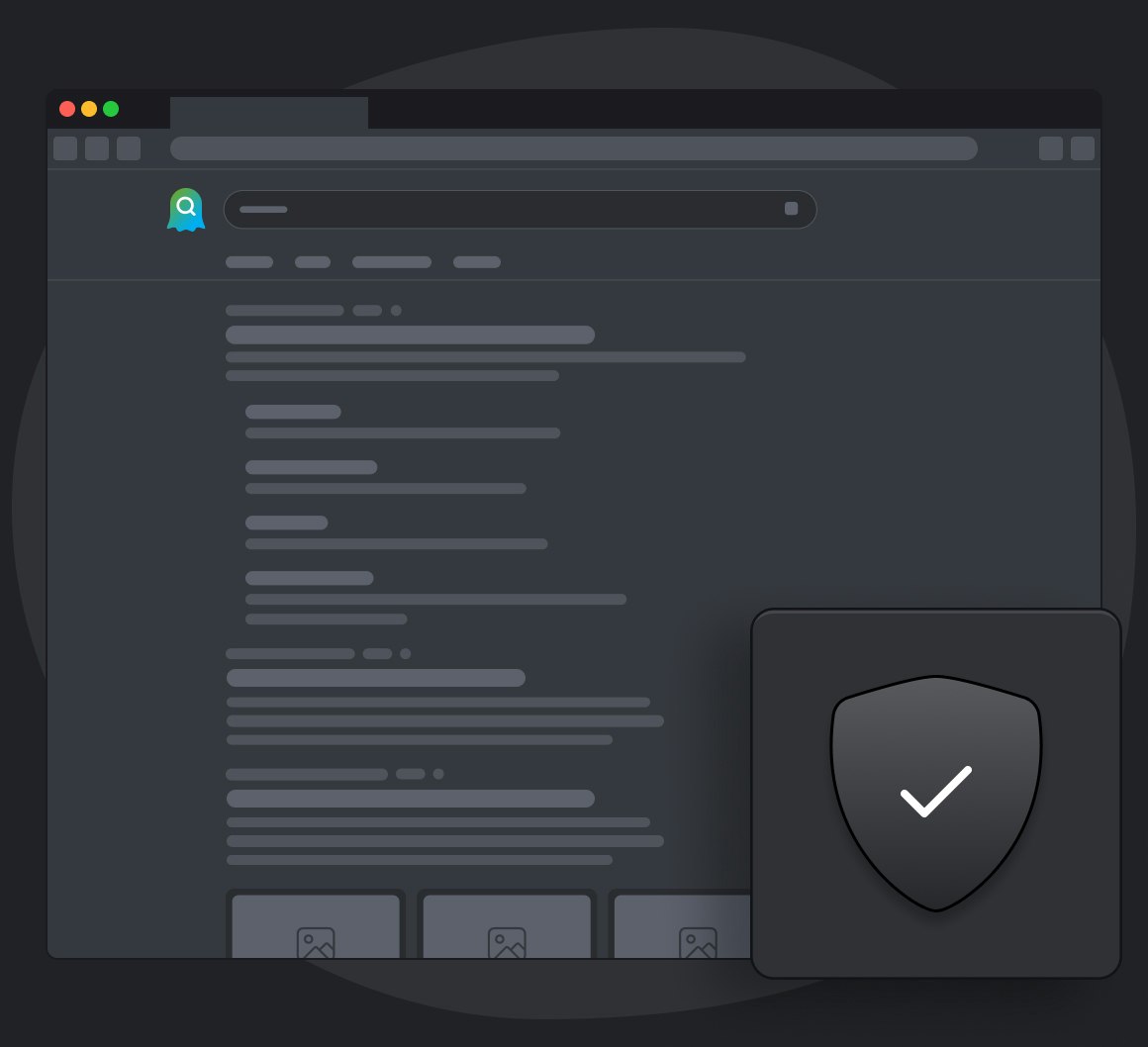 Independent of Big Tech
Ghostery Private Search gets you objective results from a unique search index that respects your privacy. No tracking, no logging, no profiling.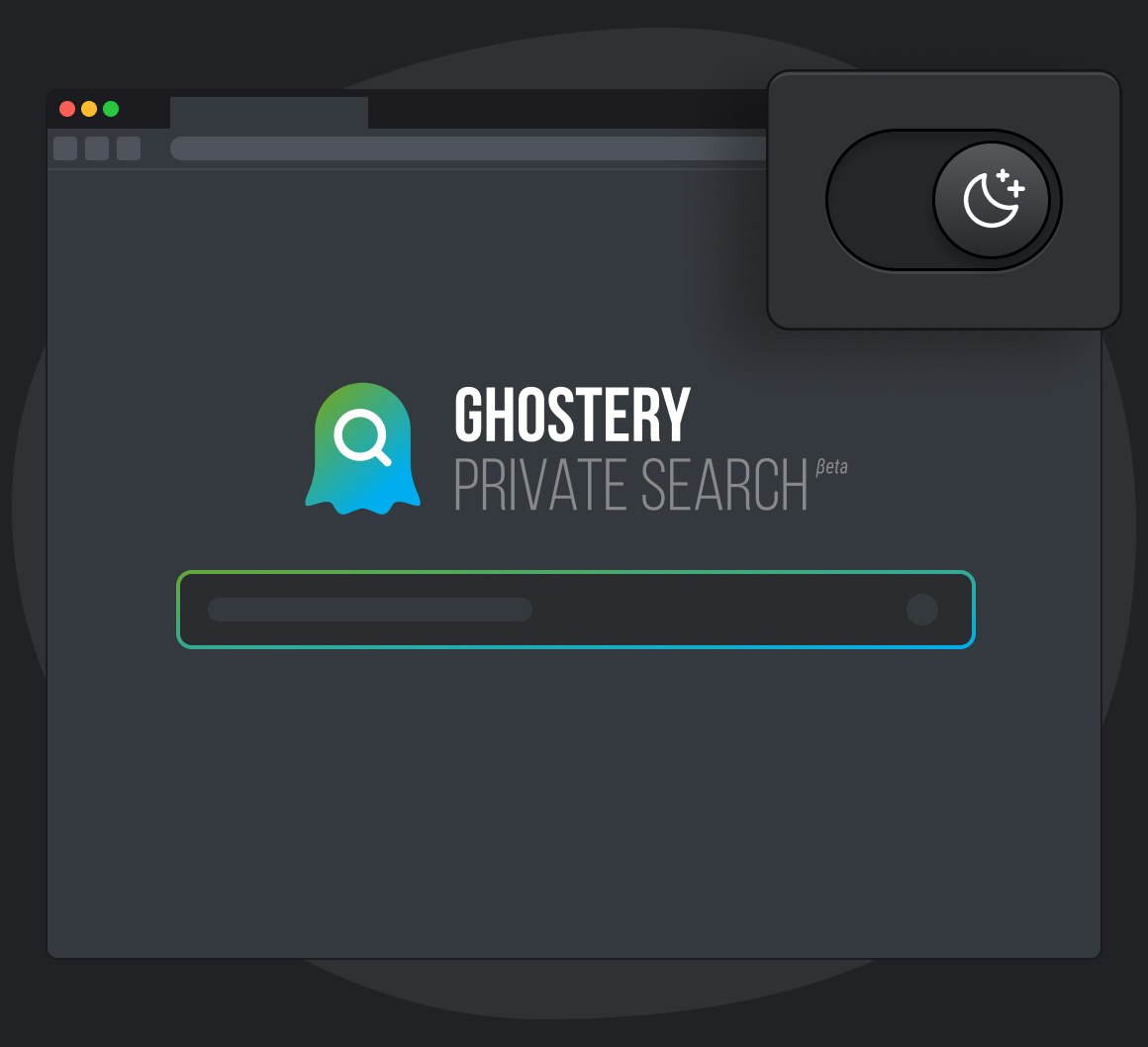 Dark Mode by Default
Find more with Ghostery Private Search, the only private search engine that gives you dark mode by default. No glare, no hassle, just results.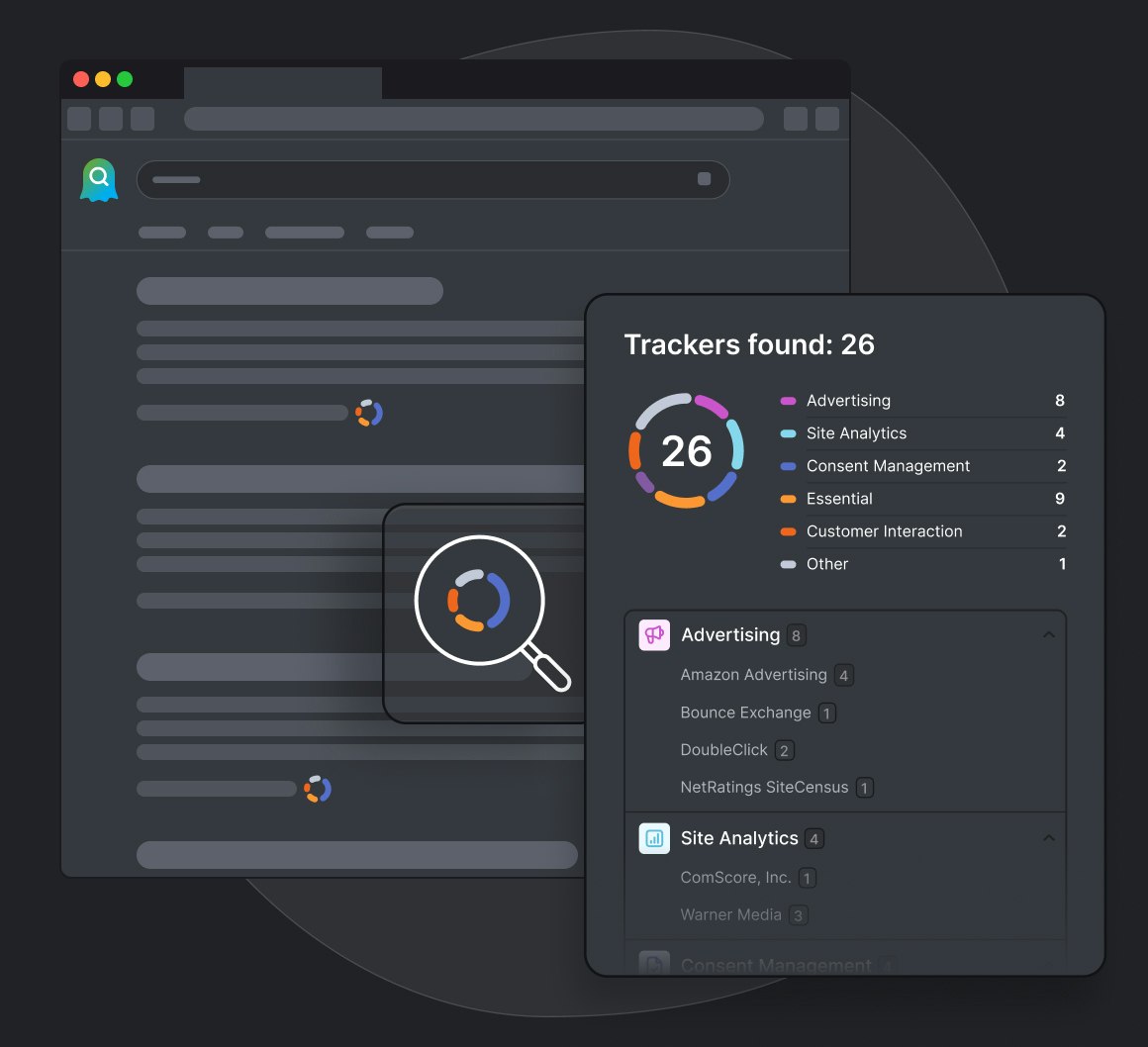 Tracking the Trackers
See who's tracking you before you visit a page with WhoTracks.me. It uses Ghostery's AI anti-tracking technology to reveal the trackers beside each search result.
The Dream Team - Private Search meets Private Browser
Search the web with confidence with Ghostery Private Search for Chrome and Firefox.
For the best protection, try our Private Browser with advanced features like tracker and ad-blocking, private search, and maximum security.
DOWNLOAD NOW
FAQ: Ghostery Private Search
Why search engines are not private?
Search engines generate revenue by displaying advertisements. To maximize profits, they utilize all available user data for precise targeting.
By understanding a user's interests, search engines can consistently present relevant ads across various searches and share this information with other advertising networks, ensuring that ads effectively reach users wherever they go.
What is a private search engine?
A private search engine is a software that enables you to search the web without storing and tracking users or session information. 
Ads can help find relevant offers while maintaining privacy if matched by search queries. A private search engine doesn't use or share user data for ad targeting.
The Ghostery Private Search engine is a one-of-a-kind system that allows you to search the internet without recording your search information, providing objective results.
How do you search privately?
To start searching privately simply visit https://ghosterysearch.com/ and type in your search query. 
Our private search engine will then crawl it's search index and serve you the best results for your search query.
Are Google searches private?
Google searches are not private. Google collects user and search session information that is used to target you with promotional content.
Ghostery Private Search engine offers a true private search experience. We do not log any user or search session information.
What is the most private search engine?
We consider the Ghostery Private Search engine to be the most private. We do not record your search query or your session information nor do we collect any other personal information. 
Your internet search is truly private.
How can I tell if my search engine is private?
To determine if your search engine is private, check if user identifiers are attached to search queries. These identifiers are often stored in cookies. While it's acceptable for search engines to use cookies for user preferences like language or country, associating user accounts with search queries is not considered private.
What makes Ghostery Private Search different?
Ghostery Contributors enjoy an entirely ad-free experience. Ghostery employs blind token cryptography to detach user donation information from their search queries. Although it may sound complicated, it's quite simple: Contributors receive anonymous "blind tokens" or coins, which they use for ad-free searches. This ensures that a Ghostery user account is never linked to any search queries.
Which private search is best?
Determining the best private search engine depends on individual preferences. Opting for any private search engine enhances privacy and reduces the impact of marketing manipulation. When selecting a search engine, review their Privacy Policy to ensure that no user information is shared with other companies. Keep in mind that ads aren't the issue but rather the potential misuse of personal user data associated to them through sharing.
Still have questions?
If there is anything you miss in Ghostery or have any questions, please drop a line to support@ghostery.com. We're happy to talk to you anytime.