Last week on the blog we addressed cleaning up your digital footprint in 2021…but do you know what makes up your true "digital self?"
The definition of your digital self is constantly evolving. Nonstop connectedness has real-world consequences to our digital identity as we use more apps, pay more bills online, order meals and groceries online, (over)share personal details on social media, reuse old passwords, post stories about our daily activities, and so on.
A lot of people think of digital privacy as a step to avoid hackers. But it goes way beyond that. Sure, someone cracking your password is a huge threat, but the issue is deeper than a hacker stealing your password to commit online fraud.
Data-Gathering Grows
Although cybercrime is a serious threat, what about the less-nuanced invasions of privacy? Who's keeping a record on you? Do you even know what is being tracked and analyzed about who you are, where you shop, and how you think?
Imagine if every store you visited at the mall collected information about your identity every time you walked into their store. Imagine if there was a record of exactly when you went in to browse, how long you lingered, when you touched specific items, and/or how you paid for every transaction.
That's exactly what happens when you visit websites. Yet it's also happening physically through smartphone location tracking and Bluetooth beacons. It happens not only through a store's own branded mobile app but also through less-obvious tech, like weather apps and news apps.
According to the New York Times, "these beacons are small, inobtrusive electronic devices that are hidden throughout the grocery store; an app on your phone that communicates with them informed the company not only that you had entered the building, but that you had lingered for two minutes in front of the low-fat Chobanis."
Plus, as the entire world seemingly went remote due to COVID-19 (school, work, happy hours, weddings, and so much more all went virtual…), people shifted their entire lives online. But internet security didn't move at the same fast pace, and in some ways, took a step backwards.
One thing that expanded significantly during 2020 was the rise of virtual therapy and telemedicine visits with healthcare providers. While it was a logical and safer option to keep people at home and out of medical offices, the risks to online privacy went up when the Department of Health and Human Services relaxed its digital privacy rules by allowing healthcare providers to use services that aren't HIPAA-compliant (i.e., FaceTime, Facebook Messenger, Google Hangouts, Zoom, Skype) to meet with patients.
According to an HHS notice to healthcare workers, "Providers are encouraged to notify patients that these third-party applications potentially introduce privacy risks, and providers should enable all available encryption and privacy modes when using such applications."
Did you or anyone in your family have a virtual healthcare visit during the past year? If so, did your provider warn you, even once, about any privacy risks to your private health information and online privacy? Your electronic medical record contains a lot of information about you — including your Social Security number, medical diagnoses, insurance information, address, date of birth, and on and on. Remember, the government only "encouraged" that providers mention the privacy risks to patients — it was never a rule.
Controlling Our Digital Halves
As you can see, so much of our boring, mundane daily activities have become data that big tech analyzes and sorts.
Too bad none of us really control our digital halves, according to Andrew Hill, co-founder & CEO of Textile.
"For lack of a better analogy, our digital halves are something like indentured servants. We hand over long-term rights to these digital representations of ourselves to most of the digital services we use today, our digital self goes to work each day for other companies while we benefit from some new social interaction with a well-placed ad," said Hill.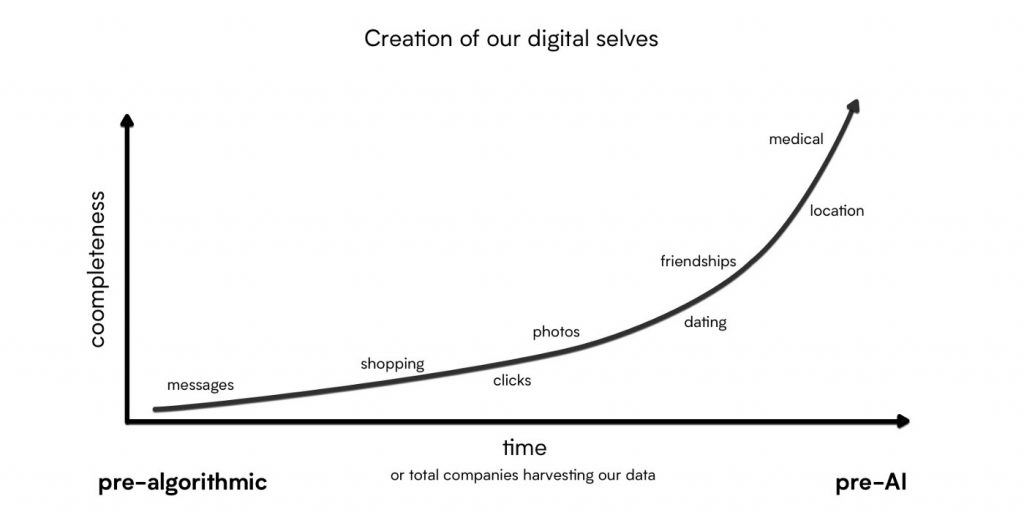 Good Internet Safety Tips
To better protect yourself online, we recommend:
using Ghostery Midnight to protect your digital identity across your entire computer and apps. It offers device-level security for email clients, creative software, task apps, entertainment and music platforms, and more.. 
using a VPN to keep your activities secure and hide your IP address. One of the coolest features about Ghostery Midnight is that it has a built-in VPN. This provides the most secure digital experience, protecting you from data collection on both browsers and apps. 
using Ghostery's Privacy Browser, which has a built-in anti-phishing security feature and detects up to four times more phishing attempts than Google Safe Browsing.
disabling geotagging on photos. If your smartphone has geotagging enabled as a default setting, consider disabling it because it will become part of your personally identifiable information. 
protecting your passwords. Many of us use the same log-in credentials to access multiple accounts, which is risky — if a hacker can crack one password, it can create a chain reaction where they can open up your other accounts, too. In addition, make sure you've enabled two-factor authentication for most, if not all, of your online accounts (but especially your financial/banking accounts!). 
deleting extraneous apps. Delete apps you don't really use and turn off location services when not needed. To avoid those retail-spying beacons mentioned above, consider deleting any apps that may be spying on you — including apps from retailers.
Final Thoughts
The reality is that no one else is going to protect your digital self. There's not even a federal law protecting what companies track, store, and sell about you.
In real-world terms, it's your responsibility to lock your front door, back door, and every window; it's a bonus if you remember to set the home security system, too. While you theoretically could leave every door unlocked, you'd sleep better at night knowing you've made it harder for any bad guys or nosy neighbors to find their way inside.
Protecting your "digital self" online is similar. Certainly no one will make you lock your front door — and no one will make you use tools to protect your digital identity, either. It's up to you to think through the safety consequences and take steps to protect your digital privacy.