Around 200 million people use Firefox daily to search, learn and share information. It also has a wide and varied selection of add-on extensions that can be used to make your time online even better.
One of the most popular has been the Ghostery browser extension, which has been downloaded over 100 million times - a powerful privacy tool that is totally free to install and use. It's one of the best ad blockers for Firefox while also keeping trackers at bay so you can use the web with your privacy in-tact.
We're going to show you how to install and manage extensions in Firefox, and we'll use Ghostery as an example so you can learn more about the benefits of our Firefox tracker blocker along the way. 
How to install extensions on Firefox
Follow the steps below to install a new extension on Firefox:
1. Download Firefox and install it if you do not already have it on your system.
2. Open Firefox to launch the browser.
3. You'll need to go to the Add-ons section which is found in Settings > Add-ons. This will open a display window that shows all the extensions currently installed. You can update and remove any unused extensions and search for new ones here too. If you prefer a more manual method, type "about addons" into the address bar after you have launched Firefox to bring up the Add-ons section.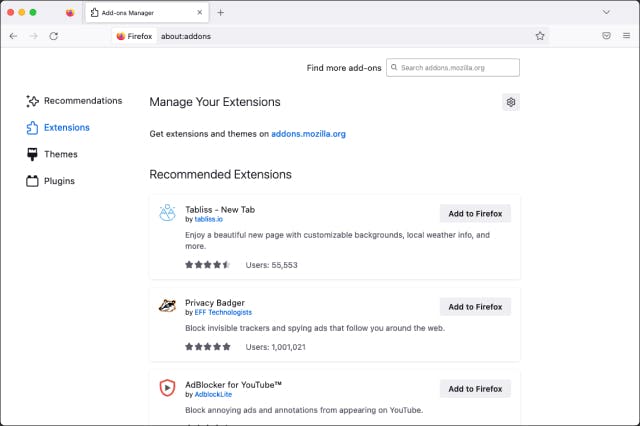 4. Click on "Get Add-ons" if it is not already selected. In the search bar type in "Ghostery" to find the Mozilla addon.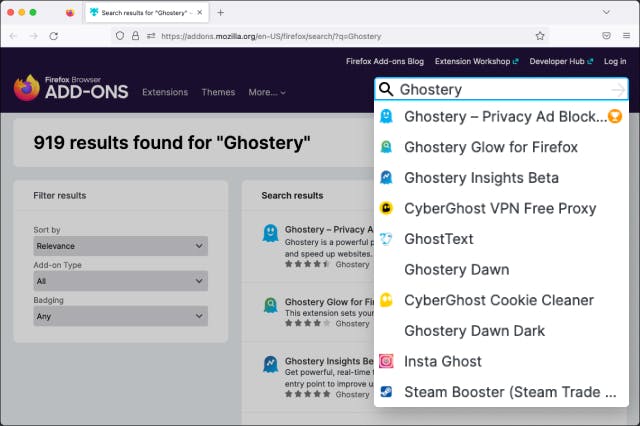 5. The Ghostery extension will appear with an "Add to Firefox" button next to it. Click on this and Firefox will automatically download and install it. If a restart is required to use the extension, Firefox will also let you know.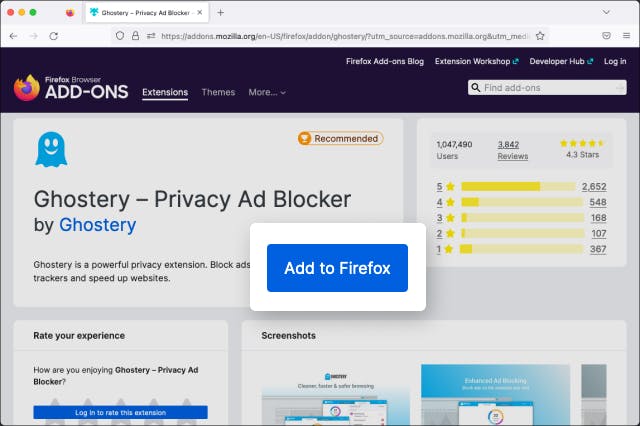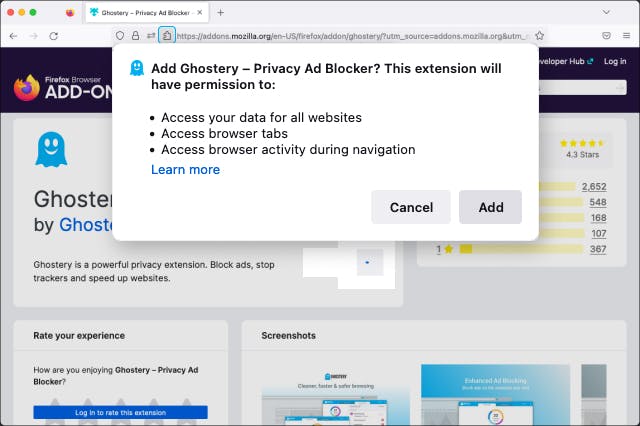 6. Once installed, you'll see a Ghostery icon in the right-hand side of the tool bar. This is the quickest way to access the settings for the extension if needed.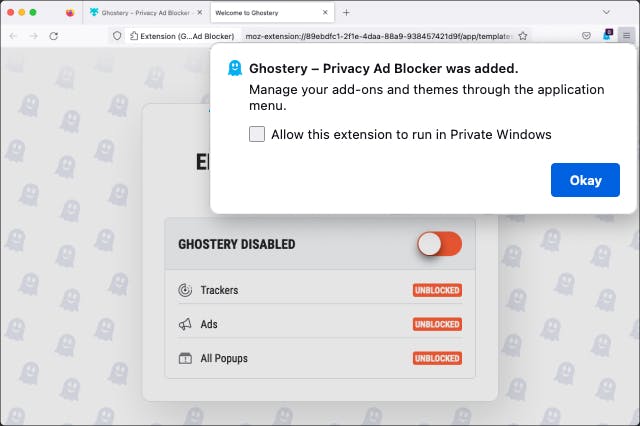 How to disable Firefox add-ons
We all tend to download and install programmes and forget to remove them when they are no longer needed. However, some extensions will collect your personal data (this does not apply to Ghostery as it works as a tracker and ad blocker for Firefox and collects non-personal data only after user consents to it).
To disable a Firefox add-on, follow these steps:
1. Open Firefox and click on the menu button.
2. Then click Add-ons and themes and select Extensions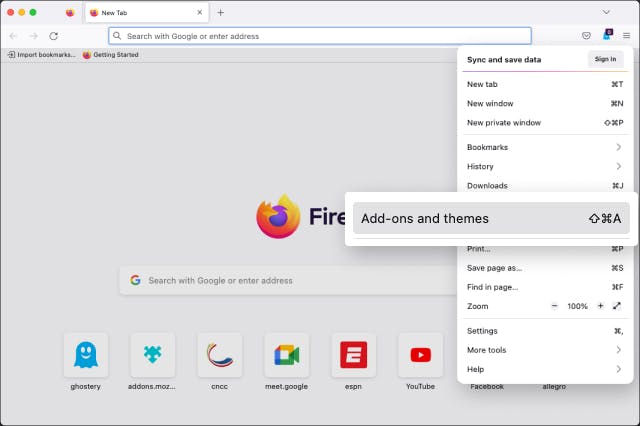 3. Find the extension you want to disable and use the blue toggle to disable it.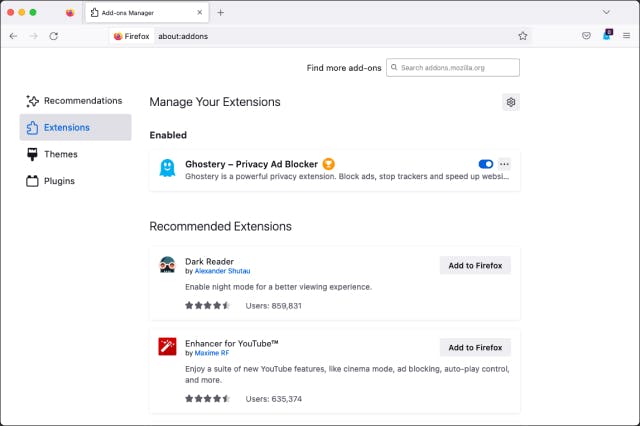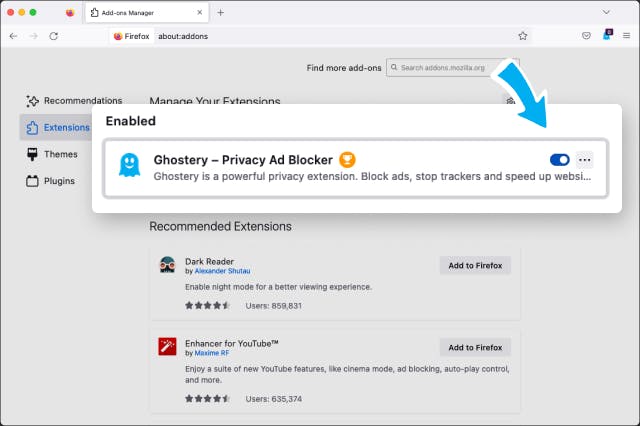 How to remove Firefox add-ons
While you can use the method above to disable a Firefox extension, the Ghostery team recommend that you remove any unused Firefox extensions, which can be done quickly and easily:
1. Open Firefox and click on the menu button.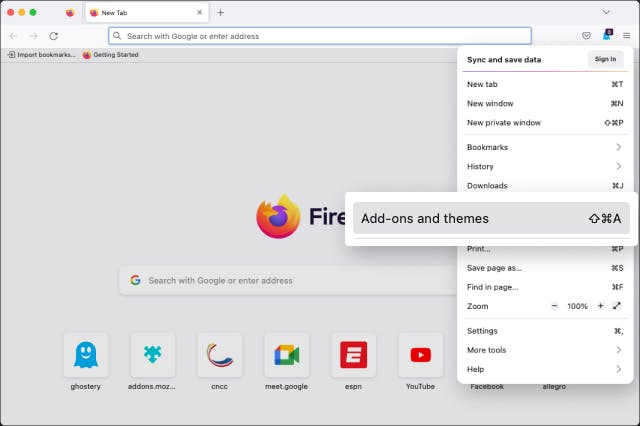 2. Find the extension you want to remove.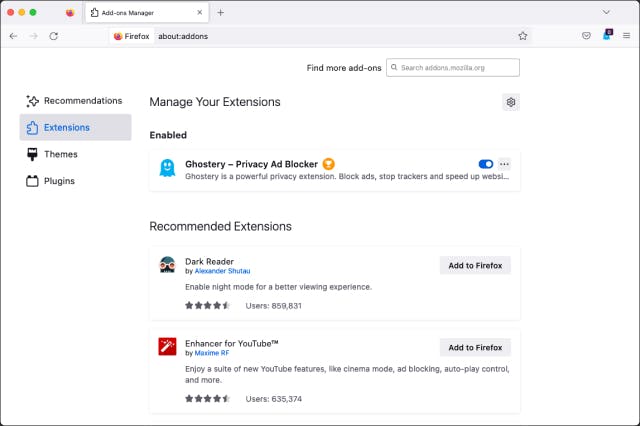 3. Click the three dots next to the extension icon and select 'Remove'. The extension will now be uninstalled from the browser.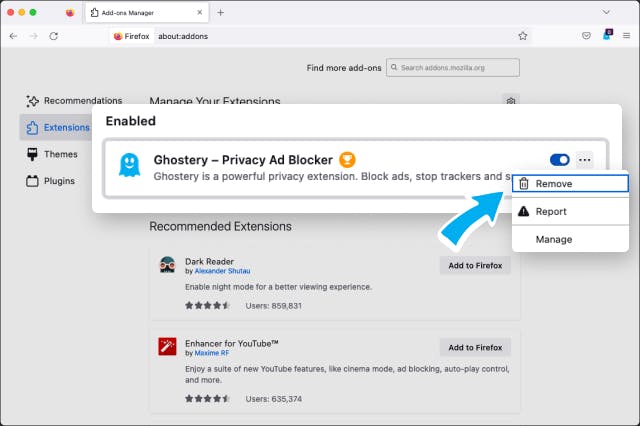 Your personal data is now protected
As you can see, installing a Firefox ad blocker like Ghostery couldn't be easier. It only takes a minute or two to complete and it will quietly go about its business protecting your data while you enjoy the internet. It will block pop-ups, annoying ads, spying trackers and more, and provides more information about each one if you want to find out more.
Take control of your digital privacy today!
Compared to opting out or cookie blocking, downloading the Ghostery Privacy Suite is a more efficient way of enhancing your online privacy.
Get in touch with our team if you have any questions - we are always happy to help!