Ghostery and uBlock Origin - a comparison
Is Ghostery a good alternative to uBlock Origin?
People are becoming more aware of the increasing number of personal data leaks and data mining that occur online and are searching for extensions that can offer more privacy and protection. Well-established content blocking extensions like uBlock Origin can prove helpful, so we thought we'd look at it in more detail to see how it compares to tracking blocker features of Ghostery.   
What is uBlock Origin?
uBlock Origin is a free browser extension that is used to filter content online. It is not classified as an 'ad-blocker', rather it is used to give users greater privacy protection while also focusing on boosting CPU and memory efficiency. The extension was developed by Raymond Hill and his blocklists are now widely used by the ad-blocking community. And as an open-source extension, regular features and updates are also provided by developers engaged with the improvement of the extension. 
What platforms does uBlock Origin work on?
You can install uBlock Origin on the following platforms:
Google Chrome
Chromium
Microsoft Edge
Opera
Firefox
Please be aware that uBlock Origin is in no way related to uBlock.org, which is a relatively new and less recognized content blocking extension. To avoid any confusion, we advise that you should only download uBlock Origin as the original open source, community-powered extension, which you can find on their website.  
How does uBlock Origin compare to Ghostery?
User Interface
The user interface (UI) relates to the layout of any given piece of software, and it should ideally be designed to ensure that the user can easily navigate the various features.
This is an area that Ghostery is widely recognized for, thanks to the clean, professional format that encourages users to engage and interact with the various features.
Every section is clearly labelled, and you can click on the small 'I' icon next to each option to get a more detailed explanation about what it can be used for.
Users may not experience the same ease of use with uBlock Origin. The developer's main point of focus appears to have been to provide powerful features for expert users, which means the aesthetics are not as pleasing as Ghostery. However, uBlock Origin's design appearance does not have any impact on its effectiveness.
Control options
There are three modes users can try with uBlock Origin: Easy, Medium, and Hard. Default settings are applied on Easy mode, with a few additional options made available. Medium mode is more advanced and suitable for tech-savvy users, while if you are comfortable using the Advanced setting, you should be able to achieve much more control.  
However, due to the large number of power-user features and settings, you may struggle to find the balance of right options to suit your needs.
In addition to blocking annoying adverts and invasive trackers, Ghostery provides additional information about trackers so you always have the best privacy protection while online.
Both Ghostery and uBlock Origin are extensions that automatically block all ads and data mining trackers. If needed, you can change these settings at any time by simply making the alterations in the settings section.
Privacy
Since its inception, uBlock Origin has never accepted payments, instead directing users who wish to donate to give money to blocklist maintainers. This gives users total assurance that they are using a privacy protector that has their best interests at heart and that their data is not being captured or used for profit when the extension is activated.
Ghostery also does not collect personal data through its anti-tracking extension or via any of the other privacy features it offers to users. In addition to blocking ads and trackers, you can also enhance your privacy with the Private Search and Private Browser options, both of which are free to download and use. 
Both Ghostery and uBlock Origin are open source, so the code can be analyzed by anyone. They also both have strong communities around the world who offer constant updates that are used to improve the features and functionality of the respective extensions.  
Speed
Thanks to Ghostery's default settings, all the advertising and background clutter that can slow down web page loading is removed. This lessens the load on your device, which should result in faster loading pages and fewer issues navigating the page.
While it may not be immediately apparent, this will also help to improve your energy efficiency as your device's CPU and memory will use fewer energy resources during the loading process.  
Speed is also a big feature point for uBlock Origin, as it is a lightweight extension that should not interfere with the loading of web pages as you browse.
What are the pros and cons of uBlock Origin?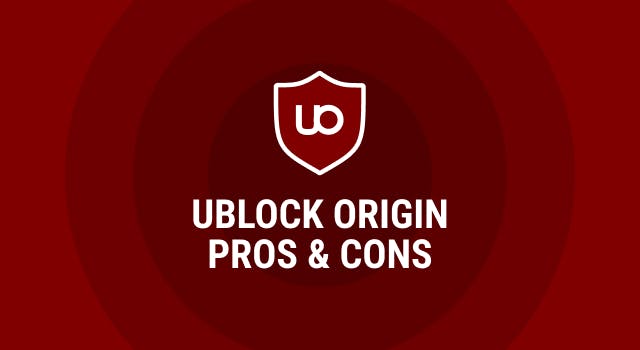 Pros
Web pages load faster
Open-source extension with a strong web-based community
Customized power user features offer enhanced blocking control 
Cons
Design layout may make it difficult to use for some
uBlock Origin is not available for the Safari web browser
What are the pros and cons of Ghostery?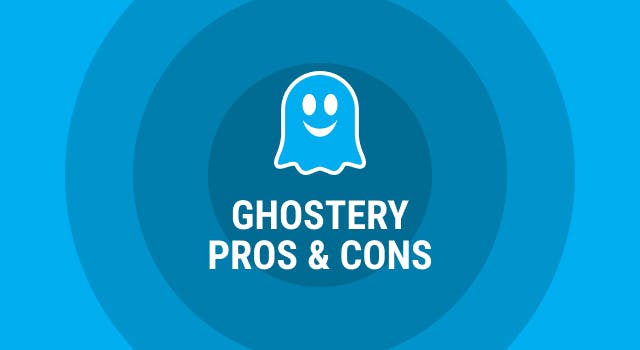 Pros
Free to download on multiple devices, including iPhone
Automatically blocks all adverts, third-party trackers, and cookie pop-ups
Cons
Some users may not find the additional tracker information useful
Compared to uBlock there are fewer options to add custom block rules
Summary
When it comes to blocking trackers, Ghostery and uBlock Origin perform very well. Ghostery is a dedicated cookie, tracker and ad blocker that will ensure intrusive ads are removed from the web pages you view. Some ads will be blocked by uBlock Origin if they contain trackers, while those that don't have trackers can still be shown. 
It means that the all-round blocking capabilities of Ghostery ensure there is less chance that your data will be captured. The more user-friendly design of Ghostery also makes it easier for users to learn about trackers and the companies behind them, increasing their digital knowledge so it can be passed onto others to enhance their privacy online. 
Take control of your digital privacy today!
Compared to opting out or cookie blocking, downloading the Ghostery Privacy Suite is a more efficient way of enhancing your online privacy.
Get in touch with our team if you have any questions - we are always happy to help!
FAQ
Is Ghostery better than uBlock Origin?
The functionality offered by uBlock Origin and Ghostery overlaps to a large degree. uBlock Origin has some power-user features like defining custom blocking rules. If in need of such functionality, uBlock Origin can be your choice.
Does uBlock Origin make Ghostery redundant?
Both privacy protection tools offer comparable functionality. We recommend you decide on one, though they can run in parallel on the same browser. Having two ad blockers installed brings higher risk of breakage, which cannot be controlled by none of the two.
Still have questions?
If there is anything you miss in Ghostery or have any questions, please drop a line to support@ghostery.com. We're happy to talk to you anytime.