Editorial
Ghostery's Take on Mindful Dating: 3 Reasons to Limit What You Share On Dating Apps

Have you dipped your toe into the online dating waters?
Millions of people are turning to dating apps and there's an app for almost everyone — and every lifestyle. However, it's a very unregulated industry and companies are making big bucks off of your most intimate personal details.
According to bedbible.com, online dating generated $912 million in 2019, and is expected to reach $1.1 billion by 2024.
While you may have thought that catfishing was the biggest worry with online dating, that's hardly the case.
Freemium Isn't Always Free: How Dating Apps Profit
Before we dive into our three main concerns of dating apps below, let's look at the revenue model for most dating apps.
You might think that "freemium" features are how they make money — meaning they offer free services along with an upsell to more advanced bells and whistles. Sure, dating apps might lure users in with premium features — Bumble's paid features offer unlimited swipes and advanced filters, while CoffeeMeetsBagel's premium version enables "activity reports" and read receipts.
The majority of the revenue comes right from YOU — and millions of people like you. This model is based on everything you're uploading to their site — that includes your basic profile information, your stated preferences, your conversations, your own photos, your quips and conversations, and whatever other personal information you willingly (over)share all in the name of finding love.
Put another way, you're risking your online privacy with everything you put online. Here are a few key reasons you should think twice on dating apps.
#1: Dating Apps Lead to Loss of Privacy
While it may be the last thing you want to think about when you're looking for love, there's an inherent loss of privacy on dating apps. Consider some of the key risks when you agree to a dating app's privacy policy and data collection practices:
Sensitive personal data is exposed. Although lots of the apps we use harvest our information, the kind of data you expose on a dating app can be uniquely sensitive. If you're putting information on the internet, that means it can be leaked. As with any app or service, if they're collecting data, consider it a possible threat to your privacy; dating apps are not immune to hacking (see below).
Smartphone location tracking is enabled. When you set up online dating profiles, you typically enable access to your smartphone's location, one of the most valuable data points for targeted ads.
Data policies can change. Who owns your data? Ask yourself what would happen if the dating app is sold to a different company, changes it's privacy policy, or years from now decides to use your data in ways you don't agree with?
Given the points above, consider that Match Group says it reserves the right to share data under its umbrella of owned dating apps. In it's privacy policy, it says "we share data between brands for limited and critical purposes."
Did you know that's not restricted to data you share only on Match.com?
In fact, Match Group remains the largest dating app company, controlling an estimated 60% of dating apps! MatchGroup also operates Tinder, PlentyOfFish, Hinge, OurTime, and OkCupid, among others.
#2: Dating Apps Lead to Data Breaches  
Who can forget the AshleyMadison data breach and hacking scandal for people seeking extramarital affairs? In 2015, the parent company agreed to pay $11.2 million to settle the class action lawsuit filed on behalf of the approximately 37 million users whose personal details were leaked.
They're not the only dating company that's suffered data breaches. In 2019, dating app Heyyo exposed the data of nearly 72,000 users.
Even worse, in early 2021, ZDNet shared that dating app MeetMindful was hacked, exposing 2.28 million users' sensitive data, including:
Real names
Email addresses
City, state, and ZIP details
Body details
Dating preferences
Marital status
Birth dates
Latitude and longitude
IP addresses
Bcrypt-hashed account passwords
Facebook user IDs
Facebook authentication tokens
#3: Dating Apps Lead to Identity Fraud
The final reason we're skeptical of dating apps is that your chances of becoming an identity fraud victim go way up.
In fact, romance scams doubled in 2020 and cost the average victim $2,500. According to the Federal Trade Commission, total losses were estimated at a record $304 million overall, up about 50% from 2019.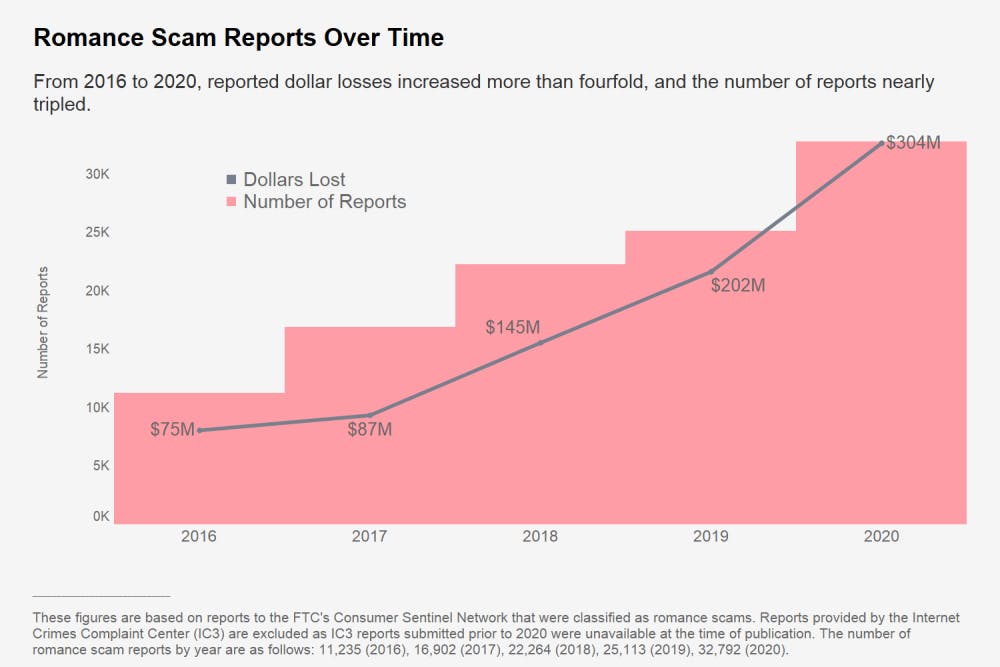 In 2020, gift card scams rose 70%. The FTC says that both gift cards and wire transfers were two frequently reported payment methods for romance scams. The median amount people sent romance scammers in 2020 using any method of payment was $2,500, more than ten times the median loss across all other fraud types.
The FTC says that because the COVID-19 pandemic limited the ability to meet in person, romance scammers were primed to take advantage. Here's how the scammers targeted every age group in 2020:
People ages 20 to 29 saw the most striking increase, with the number of reports more than doubling since 2019.
People ages 40 to 69 were once again the most likely to report losing money to romance scams.
People 70 and older reported the highest individual median losses at $9,475.
Because identity fraud is a very real threat, dating platforms are expected to embrace artificial intelligence, machine learning, and blockchain technology to increase transparency in online dating. For example, blockchain-powered platforms would give users more assurance of the "real ID" of the people behind profiles.
Final Thoughts: Know Your Rights
We hope you'll think twice before letting big tech companies know the details of your most intimate dating preferences.
As we shared in our recent podcast, Looking for Love in All the Wrong Chatrooms, how and where that data will be shared — now and in the future — is still relatively unknown.
Because online dating is still unregulated, there's little reason for these companies to provide more stringent online privacy protections for your private data.
So it's up to you to make sure you only share things you are comfortable with the rest of the world knowing.
If you do meet someone special, at least go back to the dating site and delete your photos and profile. Although the dating apps may hold onto your data for longer than your relationship lasts, at least your information isn't available to others.
P.S. You can catch all of our podcast episodes about data privacy and other industry talk here: GhoSTORIES with Franz & Pete.