Editorial
Year-End Report: The Tracker Tax on E-Commerce Websites

This article contains
As the holidays draw near, we at Ghostery are excited to offer some year-end learnings and to gift our professional users an exciting new product!
2019 has been a year of discovery for us as we developed and tested Tracker Analytics, our first real-time tag performance tool built for teams. And as the season's good cheer brings online shoppers flooding in to fill their carts, the timing couldn't be better for us to share it with you now. If you're part of a business fighting to land that holiday conversion, Tracker Analytics is here to assist.
You Want Your Website to Load Fast
If you are working behind the scenes of any e-commerce business, you are undoubtedly aware that website performance, particularly page load speed, is critical to user engagement. And in today's digital attention economy, consumer standards fly high.  According to a recent Akamai study, websites that loaded in a swift 1.8 seconds yielded the highest average conversion rate – a whopping 12.8%. The lowest bounce rate, another key performance metric,  was observed at an even faster threshold, only 13.1% at a clean 1-second load time.
What's even more eye-opening is how much seemingly minute increments of additional load time actually impact the outcome. A mere 100s of difference can cause conversion rate to drop by 2.4%. A page loading 1 second slower can see their conversion rates plummet 21.8%, and a page loading 2 seconds slower could find 36.5% of their conversions lost. And if you want users to stay on your page, then statistics hurt even more – with a 2-second delay causing a 62.1% average increase in bounce rate.
Unfortunately, many websites have a long way to go to meet this standard. Using our Tracker Analytics tool, we baselined the performance of 12 major e-commerce websites and examined the relationships between their tracker ecosystems and page performance. Our study found that average page load times landed between 3.4 and 9.8 seconds, with the worst three performers attributing 5 seconds or more of their total load times directly to trackers. This certainly comes as no surprise after last year's Tracker Tax study revealed that nearly 60% of the most highly-trafficked US sites took over 10 seconds to finish loading.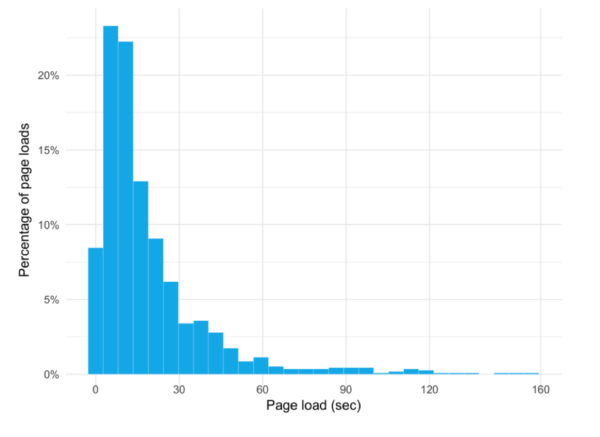 In addition to conversions and bounce rate, a slow page also negatively affects SEO ranking and unique pageviews, further hurting a company's bottom line. In an increasingly competitive e-commerce space, these metrics matter – and especially advanced tools like Tracker Analytics at our disposal, there should be no excuse for driving users away over a couple of seconds.
You Want Your Site to Benefit From Marketing- & Ad-Tech Tags
Nevertheless, we recognize that speeding up a website isn't a simple task, nor is the issue black and white. There is concurrently an increasing demand for audience data, responsive content, and customized services, among other website components that are also valuable to the success of a business. Websites employ numerous marketing- and ad-technologies, such as tags, to gather insights and provide services.
Tags are popular and may be very useful, but they come with a price, and sometimes hidden costs. If not managed with a watchful eye, a website's tag ecosystem can quickly become bloated and harmful. In addition to introducing threats to user privacy and consent, excessive, unknown, and poorly implemented third-party tracking technology may lead to bundles of piggybacked unknown, potential security threats, and increased operating costs. And most importantly for user experience, page performance suffers.
Our new e-commerce website performance study shows that not only is there a direct relationship between the number of tags present on a page and page load speed (an effect which compounds), but that this impact is often drastic.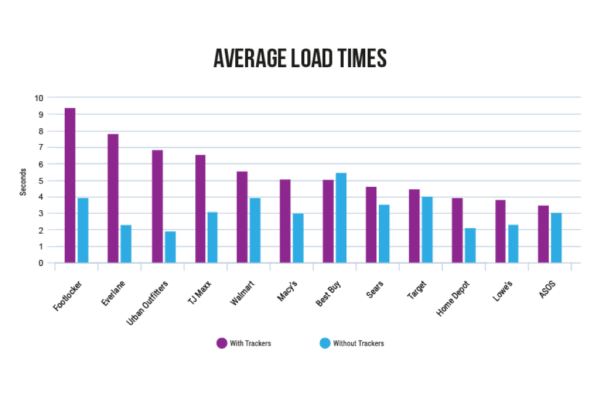 You Want the Best Experience for Your Users – and Conversions
The bottom line is that ad-tech and mar-tech tags make websites slower and cost businesses thousands, if not millions, of dollars each year. The savvy e-commerce professional will consider this "tag performance tax" to determine which technologies are worth keeping and which should be eliminated.
So how should a business manage this performance tax? In our mission to support a faster, cleaner, and more successful digital ecosystem for all, we at Ghostery believe it is critical for businesses to perform an informed cost-benefit analysis of their tracking technologies. The responsibility lies with you to be informed about the tags on your page, understand their value to you and impact on customers, and make evidence-based decisions that will win back your users and your revenue.
Ghostery Tracker Analytics Reveals Your Tags' Performance Costs (and Wins)
Tracker Analytics is an advanced tag analytics tool built to help professionals understand their website's tracking ecosystem and directly triage page performance. Our extensive request list reveals and details all third-party scripts firing on a page, and a real-time tracker distribution graph identifies at a glance what is dragging down performance.

The request timeline shows when and how tags are firing, making it easy to identify rogue actors or potential implementation improvements.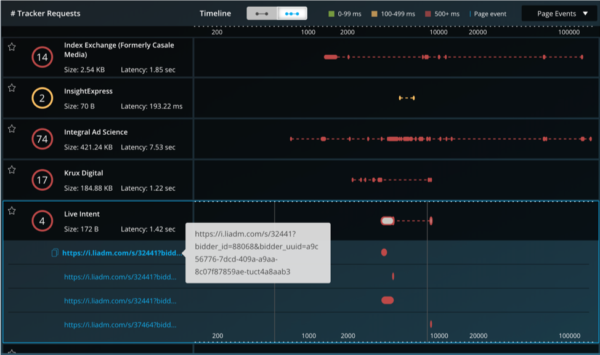 Combined with our extension's easy tracker-blocking feature, Tracker Analytics pinpoints the performance impact of specific tags and allows for highly controlled, isolated cost-benefit analysis.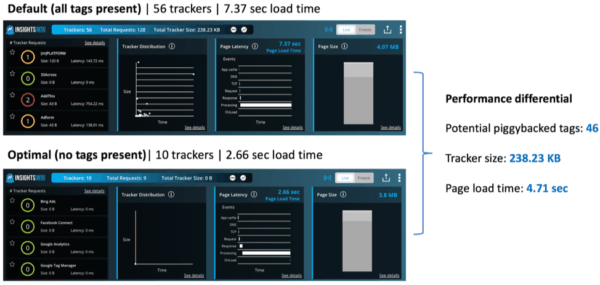 And though advanced, Tracker Analytics is team-friendly and designed to be shared – the expandable dashboards, freeze and export features make it easy to share a snapshot of page data at any given time.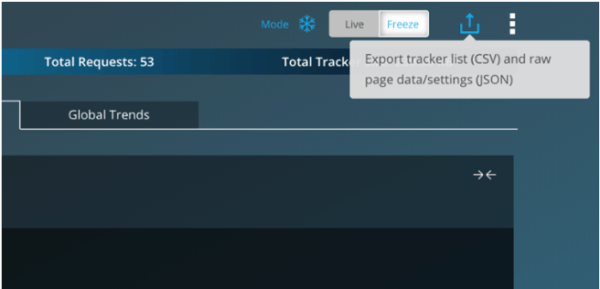 When it comes to business and consumers, the interests are mutual – the ability to understand your customers in order to provide high-quality products,