Community
10 Years and Counting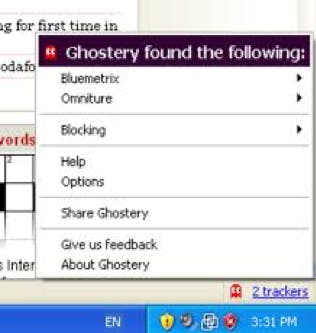 Ten years ago, a ghost appeared in your browser. It has taken many forms, but its goal has remained the same – to show you what's happening behind the web pages you visit. Ghostery was a weekend project developed by David Cancel. He just wanted to see what tracking technologies were present as he surfed the internet, that was it, and that was all it did. He had a naming convention that he was using for all of his projects –>  [name]+ery. Ghosts are invisible (mostly) so…
Ghost+ery = Ghostery! The red PacMan ghost (Blinky) was used as an icon for a little while and it was pushed to the Firefox AMO site as a free extension.
Fast forward a year to three AdTech professionals looking to change the way online advertising, marketing & privacy interacted on the web. After some negotiations, Ghostery found its professional home with Evidon. It was here that Ghostery took closer form to what you see today. The ability to block trackers, see the scripts themselves, whitelist, pause, and most importantly, was developed for all the major browsers in play: Chrome, Firefox, Opera, Safari, IE, Edge, and mobile options. Additionally, the ghost was given an official name through an online voting contest. "Ghosty" won.

From there, Ghosty took the world by storm. A traveling roadshow saw us visiting major trade shows like ComicCon, SXSW, DefCon, CES, Boston Calling Music Festival, PAX and we even got a little screen time in the major motion picture Jason Bourne. Ghosty has a few fans in the limelight – the likes of Harry Shearer (The Simpsons, This is Spinal Tap) and Wil Wheaton (Star Trek TNG and The Big Bang Theory) to name a few. Ghostery also received a call-out from Edward Snowden during his first televised interview from the 2014 SXSW Interactive Conference.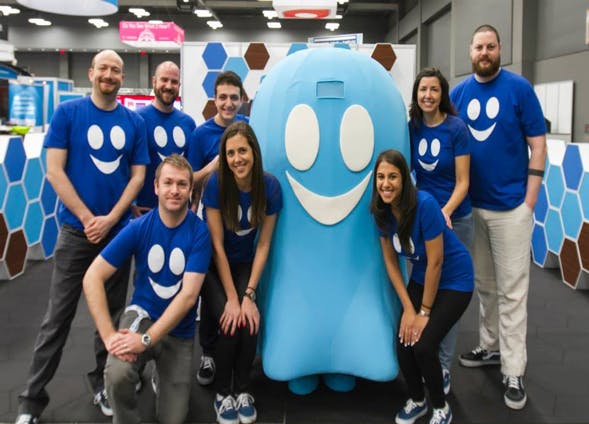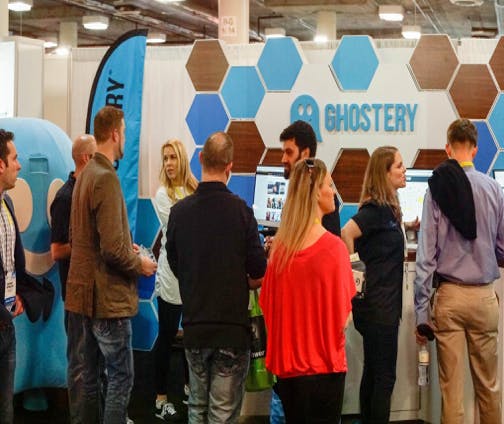 2017 saw another change in the evolution of Ghostery. We changed parent companies and joined the Cliqz team based out of Munich, Germany. They too are doing amazing work in the internet privacy space and the joining of forces was a true match made in heaven; not to mention Ghosty's first visit to Oktoberfest made for some amazing adventures. Since leaving Evidon, the Ghostery team of 5 has expanded to almost 30 to date.
With millions of downloads under our belt, it was a true honor to win the 2018 SXSW Interactive Innovation Award for Privacy & Security. We all love what we do and work hard at it, to be recognized at that level was a true high for us.
2019 saw the launch of the Ghostery Partnership Program. Some of us travel to campuses across the nation to give tech talks, live tracker demos, workshops, hackathons, and offer mentorship/internship opportunities. The response has been inspiring. One new friend we made at the University of Kentucky has been interning with us all summer doing absolutely amazing work. The future is bright, and we can't wait!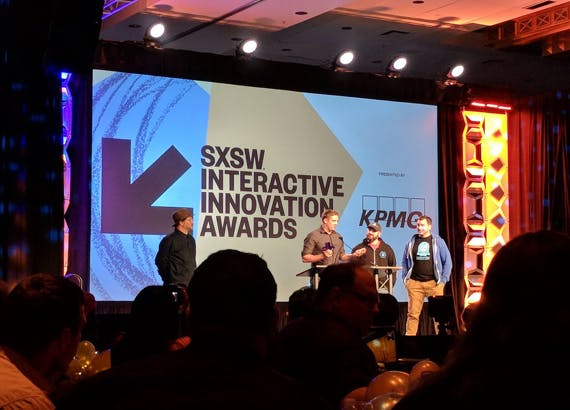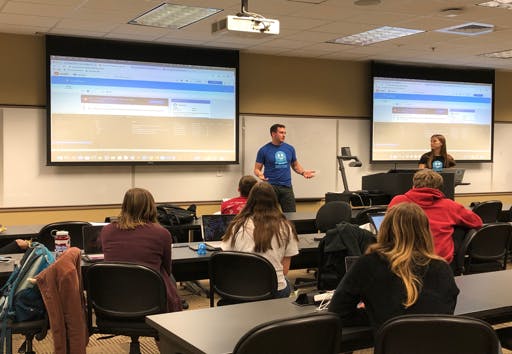 I'm lucky enough to have been riding Ghosty's coat tail since 2012 and the experience has been amazing. I get to interact with our amazing community everyday and have fun doing it. The Ghostery team are some of the best and brightest I have ever known and it's an honor to be a part of it all. We're a family and we can't thank you enough for being a part of it as well.
10 years and counting!
Pete