This month on the blog our focus has been protecting children's online privacy.  We looked at understanding tech in the home; how tech companies might be tracking children's online activities; and the risks of sharing your kids' online profiles.
We know that the internet runs on data, and we know that a lot of that is coming from within our own homes. Our challenge is learning to recognize the risks that are inadvertently exposing children to potential cybercrime, identity theft, and more.
We simply don't know everything about how children's data might be used – not just now, but also in the future, as children become adults.
‍
FTC Lifts the Hood on Social Media Engines
Indeed, just this month the FTC launched a new inquiry into the privacy and data collection practices of nine major social media and video streaming companies: Amazon, TikTok owner ByteDance, Facebook, Twitter, Reddit, YouTube, WhatsApp, Discord, and Snap.
As part of the FTC's inquiry, they want the companies to explain how they collect, use, track, and present personal and demographic information on children.
According to the FTC's statement, they want to find out:
How social media and video streaming services collect, use, track, estimate, or derive personal and demographic information.
How they determine which ads and other content are shown to consumers;
Whether they apply algorithms or data analytics to personal information;
How they measure, promote, and research user engagement.
How their practices affect children and teens.
‍
Their questions push to uncover how children and families are targeted and categorized because, apparently, policymakers are just as confused as the general public when it comes to what social media and video streaming services do to capture and sell users' data.
‍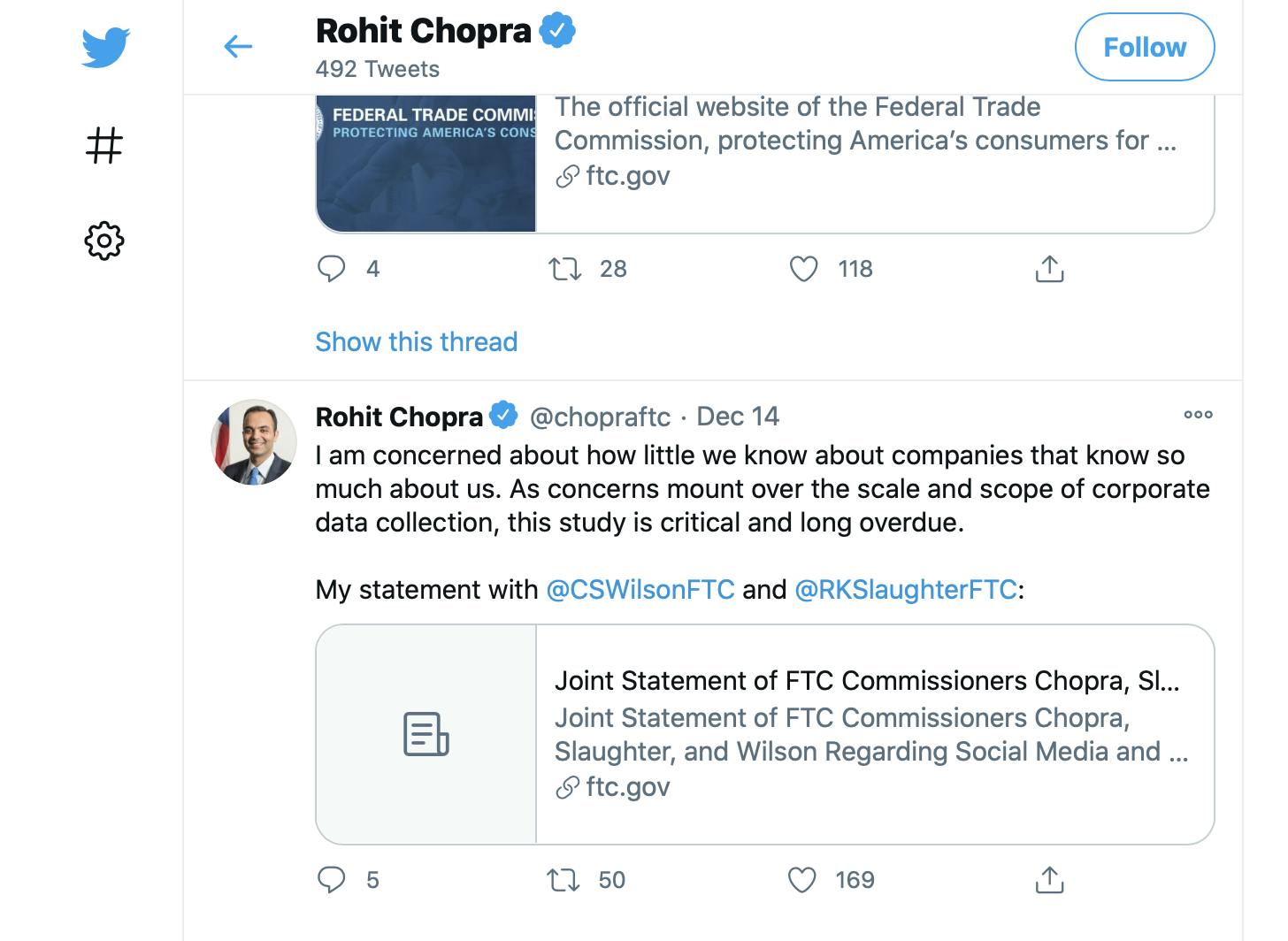 In their joint statement, FTC Commissioners claim the industry model has shifted from supporting users' activities to monetizing them:

Never before has there been an industry capable of surveilling and monetizing so much of our personal lives. Social media and video streaming companies now follow users everywhere through apps on their always-present mobile devices. This constant access allows these firms to monitor where users go, the people with whom they interact, and what they are doing. But to what end? Is this surveillance used to build psychological profiles of users? Predict their behavior? Manipulate experiences to generate ad sales? Promote content to capture attention or shape discourse? Too much about the industry remains dangerously opaque.
‍
With that said, here are six key tips and conversation-starters to use with your kids today:
First, be sure to teach your children about their digital footprint
‍Teach them that deleting a post does not mean it's permanently gone, so they should think twice before posting and sharing online. When possible, encourage them to avoid signing up for new social media or networking platforms altogether.
‍
Second, be open with your children!
‍Start the thought process early with your kids so they see you working as a team to protect your entire family's privacy. That team mentality will help if and when your kids experience an unsettling experience or have a question —  you can work together and help them resolve it.
‍
Third, warn them about phishing scams
‍Phishing is when scam artists send texts, emails, or pop-up messages to get people to share personal details. Scammers use this information to access accounts, steal your identity, and commit fraud. Don't reply to messages that ask for personal or financial information, and don't click on any links in the message. Get your kids involved too, so they can learn to tune their "scam antennas" and careful internet habits. Look for teachable moments — if you get a phishing message, show your kids so they become aware of how it works.
‍
Fourth, teach your kids not to  accept strangers' friend requests online
‍To that end, as the parent, be sure to set the privacy settings on your own social media accounts and make sure you're not sharing personal details and photos to everyone.
‍
Fifth, teach your kids to not overshare
‍Avoid answering "fun" online questionnaires and online contests. Teach your children why scammers would try to trick them into giving away personal information. Also explain that hackers might try to inject malware onto their devices.
‍
Sixth, you're the parent and you're in control‍
The Children's Online Privacy Protection Act (COPPA) is a law to protect what companies can collect about children. Once you give a site or service permission to collect personal information from your child, you're still in control. As the parent, you have the right to review the information collected about your child; retract your consent any time; and delete the information collected about your child.
If you think a site has collected information from your kids or marketed to them in a way that violates the law, report it to the FTC at ftc.gov/complaint.